Hi Mark,
sorry for the delay in replying – been away for a few days break and internet reception was very patchy.
The short answer is that the flexible roads and fields are flexible in that they actually flex. The roads are, to be fair, more flexible than the flexible fields, purely because the fields also have hedges attached! They're all designed to follow gentle contours on a games table without any problem. The roads will run up and down most wargames hills (whether they're actual model hills, or a more "old school" approach like books under a felt cloth). They're NOT designed to go 90 degrees up a cliff face, or to be bent 180 degrees back on themselves!
The majority of my hedgerows are also based on the same flexible material (with the exception of anything that's got integral trees attached – those are based on rigid bases like plasticard or foamex) and they've proved to be pretty bomb proof in normal use – the material is massively resistant to warping; it's lighter than mdf and the like, and it's flexible to boot. However, I wouldn't recommend storing them actually rolled up. The roads would most likely be fine, but I can't guarantee that the hedges wouldn't eventually loosen off the bases if you kept them rolled up – they're not designed for that.
In terms of photos showing the flexibility, here's one of a 3 inch wide road with a 20mm jeep and crew…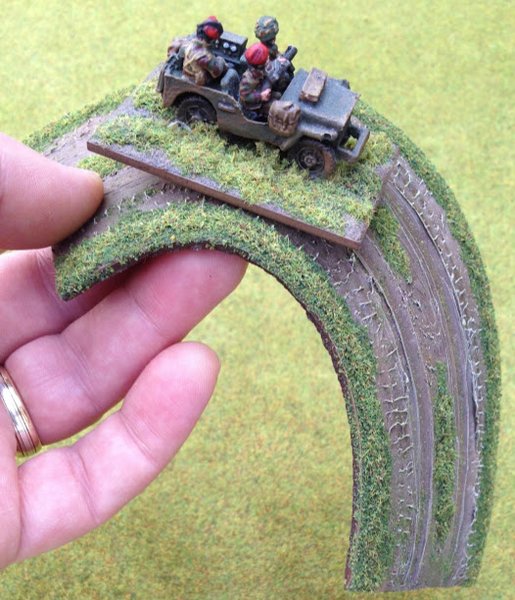 Next – here's a 6mm flexible field draped over a cloth with book underneath…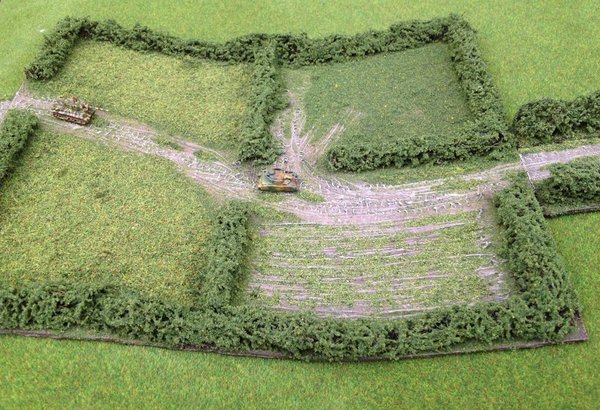 Here's a photo from an online review of my 15mm Flexible Desert Roads published in Breakthrough Assault…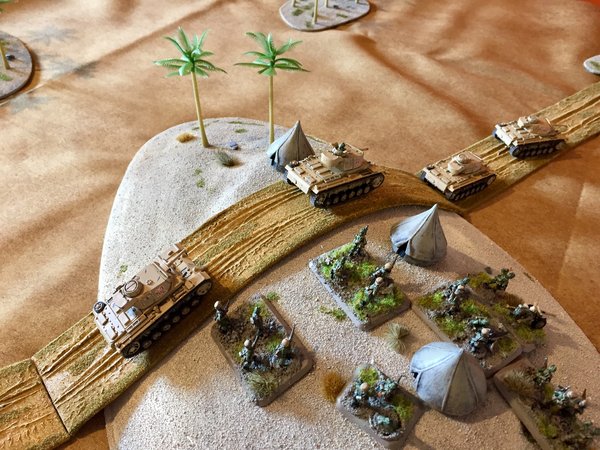 And finally, here's an in-game photo taken at my local games club a couple of weeks ago, showing a 3" wide road section and some hedges on a hill, (during a 20mm game of Battlegroup)…
Sorry the last shot's slightly out of focus, but it was just an off-the-cuff photo taken in bad light at the club. By the way – all the roads and hedges seen in the last photo were supplied by me.
Hope this helps in answering your queries!
Cheers,
John