Kublacon report!

Kublacon is probably the biggest game convention in Ca. I don't have stats for that. It runs from Friday –Monday over Memorial Day weekend. I love this con. This year I stayed through Sunday night, though because of poor planning I had to stay at a different hotel. Usually I just stay at the convention hotel, park in the hotel parking and never leave, so I was a little nervous about parking and lugging my stuff around. However, it all worked out just fine.
I was totally planning on walking around taking pcitures of many games being put on… but I didn't. I was just having too much fun and I was either playing a game myself, getting food, or talking with people that I didn't have time to just walk around taking pictures.
I arrived late Friday morning, found parking in what I hoped was the right parking lot. There is always an announcement late in the evening about cars being towed because they parked in the wrong spot. And since I was driving my father in law's car (for reasons too boring to write about), I wanted to make sure. There were signs about parking EVERYWHERE. So I was pretty sure but still asked a staff members if he knew where the theater parking lot was. The staff at registration didn't know for sure but the miniature coordinator did, and he even walked OUT of the hotel with me and pointed to the correct parking lot, which was the best confirmation I could get and super nice of him (thank you!)
So after some socializing with some friends, got in the first game, which was Pike and Shotte. Basically because I like Hail Caesar and wanted to try out P&S. It was a fun game. The GM was named David, and he had 'surprises' for each side; like he told my side that we had a cav unit that could come on the flank, and some off table artillery. The other side had surprise reinforcements. I am not familiar with the period of history but the scenario was called "crossing the river' and we were defending our crossing. There was something about the Pope. Good game, very fun.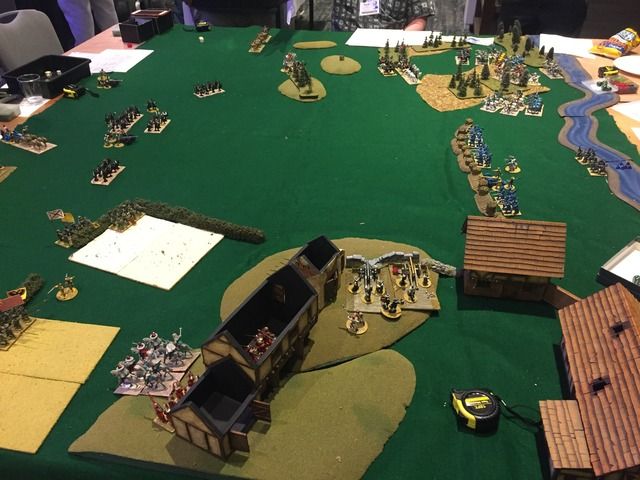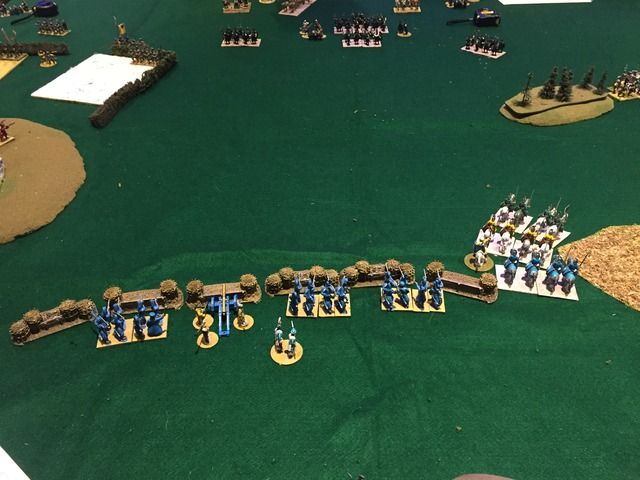 The rest of the night I played some board games. The first was a team super hero game called 'chronicle of guardians' or some other such nonsense. In the opening scenario; the super hero team had to rescue a girl from the clutches of a soviet mad scientist, his robots, and his Japanese ninja lieutenants. Oh, my character was called 'Sergeant Freedom.' Hi-larious. Like all team vs the GM games, we all end up rooting against the GM. But he deserved it. We played to a draw; we rescued the girl but it was obvious that we were not going to catch the main baddie.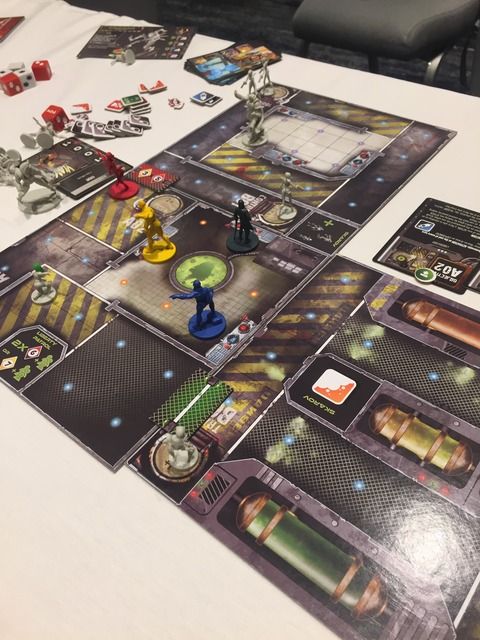 And then some food, and a turn around the flea market, while playing again my favorite game Starwars Rebellion:

And then I checked the clock and to my surprise saw that it was super late, and I still had to drive to the other hotel and stuff, and finally turned in around 2 or 3 AM.
Back early in the morning after the buffet, I played a Napoleonic sail game and now I am fighting the urge to buy ships. Had a blast in the 3 games I played. Early on I pulled off the 'splitting the line' (where you sail between two enemy ships and hit each with a broadside) and later on fell victim to my ship blowing up. The rules are 'Form on Admiral's Wake' and I'm trying to buy them now. Bob, who ran the game, put me in touch with the rules author. Bob also did a good job running the game. This was a hi-light of the con for me.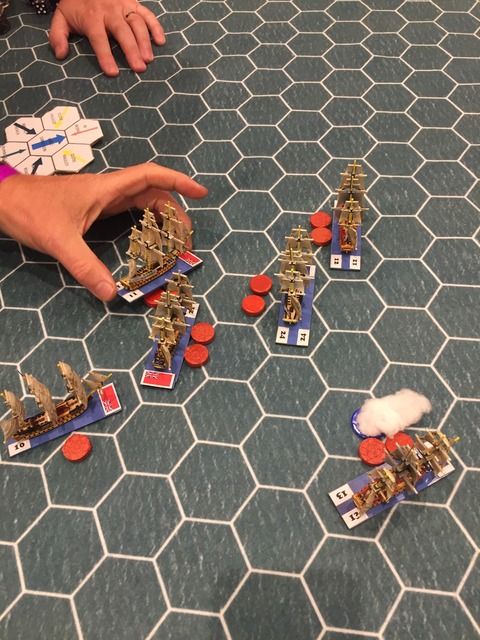 Seriously, how hard is it to get six ships and a hex mat? Especially as the ships he used were just sails of glory ships removed from the bases. Those red disks are 'fired' markers.
Seriously… might depend if I actually get the rules. Seems they are somewhat hard to come by. Going to go look up ships right after this….
Saturday and Sunday night I ran my ACW game. I was very tired on Sat so had low energy. On Sun after a good night's sleep I was much better at GMing. Lucky for me Sat was full of more veteran players.
Overall my games went well. I was told both times that folks enjoyed the game and that I did well running and explaining it. Also, I'll say my presentation / look of the game was at the level higher than average which made me feel good. So let's say a grade of B, because I am too school for cool. There were some games that were AMAZING in their presentation, most were average, and some struggled.
In another thread already Sotek4836 posted some of his amazing games. On Sat night I was next to one of his ACW games. People came up to mine and said "hey that look pretty good.. OH MY DO YOU SEE WHAT'S OVER THERE!" : )
Some more shots of my games. Same as previously in my WIDTW thread. Union lost both games! After winning the last 2 times….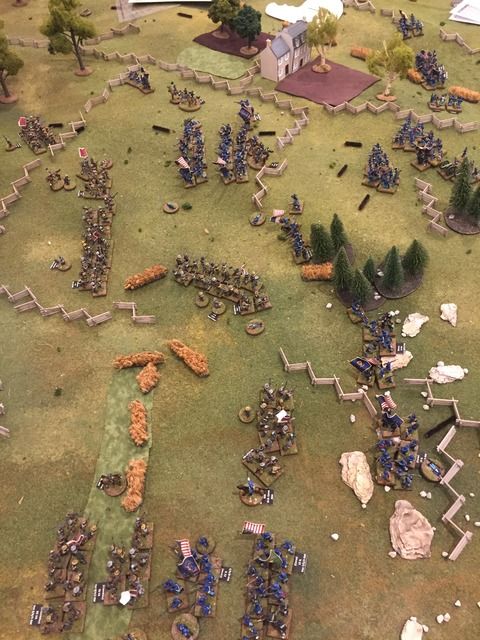 the perfectly laid out terrain tends to get ruined while playing, as it's easier to move a fence rather than arrange figures around it.
After the game some socializing, a drink, and off to sleep because I was tired, and knew that Sun would be another long day and would have to drive home for 2 hours that night.

Sunday morning I played in Bill's large ACW game based on the cornfield again (because I played in the same game earlier this year). I wanted to play the union again so I could drive the attack but he made me play the rebels. My troops are in the middle of the picture…
Another good game but I'm starting to think the scenario is too big / takes too long. I find that is the case with a lot of RFF games. If you need to do any instructions / teaching you need to add about an hour to the game length. Got about 5 turns in before I had to run and set up my game.
Sunday night was my game again (you've seen enough pictures), and left to drive him back to SAC around 10 PM, meaning I got home little after midnight.
So that's what I did. Another great experience at Kublacon.
Hope that was good reading. If so, you can follow more of my hobby rmablings on my practice blog on TMP on my "what I did this week" thread over here…
TMP link