This Kickstarter campaign features new sculpts that will, if the campaign is successful, join the existing Mythos range of 28mm scale white metal miniatures from Blind Beggar Miniatures..
Whereas the first two Acts demonstrated the first stages of transformation into the Hybrid, this sequel features the final stages of the Metamorphosis from Hybrids into full blown Deep Ones.
This campaign will allow for the Hybrids released in Acts One and Two, and the Dark Clergy, to be added to your Pledge if you choose to. .
Alongside the Deep Ones and Hybrids there is also the chance to get your hands on the human populace of Innsmouth. These could represent the 'untainted' members of the population or, alternatively, Government Agents or Investigators who are attempting to eliminate this activity in this cursed coastal region.
Act Three: The Deep Ones of Innsmouth.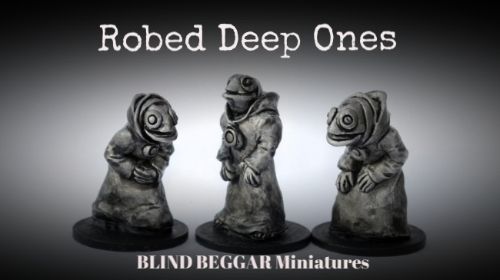 As you can see from the pictures above, the transformation from Hybrid to Deep One moves slowly through various stages. The process of metamorphosis means the loss of their more 'human-like' features that are still in existence in the earlier Hybrid phases. These features begin to disappear as they gradually take on the semblance of the creatures of Dagon and become Deep Ones and take to the water.
As Deep Ones age they continue to grow and become much larger and bulkier as they reach Ancient One status.