"This short biography of Nathaniel Greene is packed with insight and erudition. It is the third in an excellent series published by ISI that this reviewer has read. (See The Cost of Liberty, reviewed here) The book has been on this reviewer's ever expanding list for some months, and got pushed up in the queue after reading John Oller's excellent biography of Francis Marion (reviewed here).
It is interesting to read these two books in conjunction with one another as they are complementary in their coverage of Greene. In Oller's book we see a general struggling to balance the egos of southern militia leaders as seen from Marion's point of view. In Tucker's biography we see a more sympathetic view of Greene's management in a leader who has "been there" and struggled with his own ambitions.
In 1777, Silas Deane, one of the American ambassadors to France authorized by congress to recruit military specialists, enlisted French army general Philip Charles Tronson Du Coudray to replace Greene's friend Knox, as head of the Continental Army's artillery…"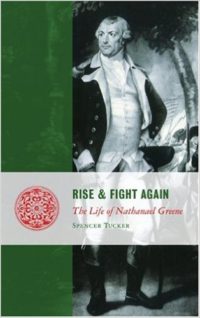 Main page
link

Anyone have read this book?. If the answer is yes… comments please?

Thanks in advance for your guidance.

Amicalement
Armand