"At a time when cavalry was of less importance to armies in western Europe, the Ottomans retained a very strong cavalry element to their armies, the majority of which were the Sipahi. These were mostly heavy cavalry, intended to strike the decisive final blow in battle, and required to help police the empire when at peace. However the period mentioned on the box, 16th and 17th centuries, saw the rise of the firearm soldier in western armies such as those of the Habsburgs, which the Sipahi found increasingly difficult to counter. However they survived until finally dissolved in the early 19th century.
The first thing you notice about these Sipahi figures is they are all dressed virtually identically, and are very heavily armoured. They wear what would be reinforced mail on body and all limbs, with a circular plate on the chest. The helmets are quite similar too, some having a nasal guard as was fashionable in the 17th century. All this is rather Persian in style, and the high level of armour tells us that these are unlikely to be ordinary Sipahi. Their armour and helmets match several examples on display in museums all over Europe and beyond, and the photo on the box is taken from the collection in the Stibbert Museum in Florence. They are certainly imposing, and many date to the 17th century, so these men are almost certainly members of one of the six regiments of the Ottoman standing Army or Kapikulu Corps. They were the elite of the army, rivals of the Janissaries, and generally better equipped than the many Sipahi in the Provincial Army, who increasingly discarded armour as the 17th century progressed. The look is certainly more 16th century if not earlier, yet there seems good evidence that this remained in use right to the end of our period, by which time most provincial Sipahi probably looked little like this.
Three of the poses are using a sword, all of which look good. The man with sword by his shield – presumably at the end of a stroke – is a common pose but not particularly plausible in our view, but the other two are very good. The second row begins with a man holding a pistol, which restricts his possible dates as the Sipahi resisted the introduction of firearms like this until well after 1600. Next to him is a man with a mace, followed by one carrying a spear. All these are valid weapons, and the poses that hold them are pretty good and certainly believable…"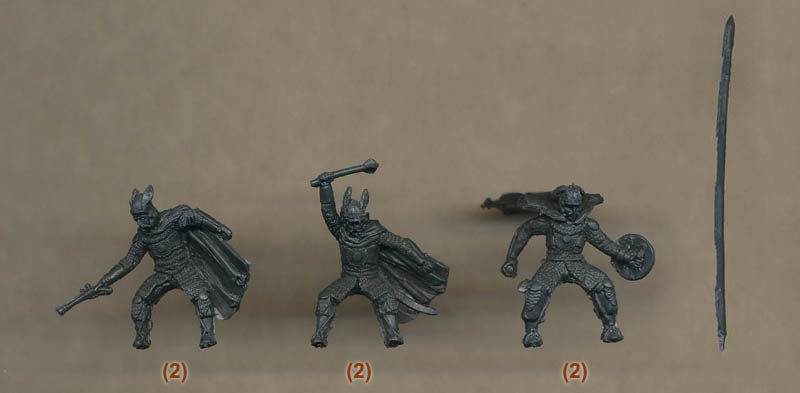 Full review here
link
Amicalement
Armand