Bug cossacks might be rated as army uhlans – they were a standing force often deployed with the army and indeed were taken into the army cavalry after 1815. They were also quite diverse ethnically : Ukrainian and Russian, but also Albanians, Moldovans, Wallachs, Greeks and Bulgars – their homeland about modern Nikolayev being a area for re-settlement of refugees from the Turks.
1-й Бугский казачий полк / 1st Bug Cossack regiment
командующий (c 20.VII.1812) ротмистр Гродненского гусарского полка Александр Николаевич Чеченский (1780-1834, 1813 полковник, 1822 генерал-майор)
officer commanding (from 20.VII.1812) cavalry captain from the Grodno hussar regiment Aleksandr Nikolayevich Chechenskiy (1780-1834, 1813 colonel, 1822 major general)
A Chechen orphan (hence his name), Александр Николаевич was raised as an adopted son by general Nikolay Rayevskiy.
Sketches drawn from life 1812-1815 :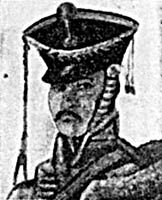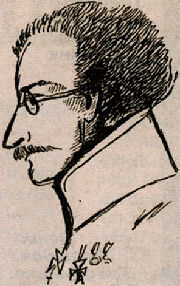 Previously serving with Ataman Platov's cossacks, the regiment was on 21.VIII.1812 ordered to Yukhnov, 100 km southwest of Borodino to guard the border of Kaluga governate. On 11.X.1812 the regiment joined the partisan forces under Denis Davydov.
They did not actually serve at Borodino.
2-й Бугский казачий полк / 2nd Bug Cossack regiment
командир войсковой полковник Макар Андреевич Немцо-Петровский
commander host colonel Makar Andreyevich Nemtso-Pterovskiy
The regiment served in the escort of the headquarters of the 1st Western Army. It was present at Borodino, but did not see combat as a unit.
3-й Бугский казачий полк / 3rd Bug Cossack regiment
командир майор Херсонского гарнизонного полка Константин Иванович Селистранов
commander major from the Kherson garrison regiment Konstantin Ivanovich Selistranov
At Borodino, 1 sotnya under the regiment's commander served at the headquarters of the 2nd Western Army. The remainider of the regiment : 2-1/2 sotni escorting the train of the 2nd Western Army, 1 sotnya under sotnik Ivan Moraintov detached to Mozyr' and the 2nd Reserve Corps, 1/2 sotnya doing escort and security duty in Saint Petersburg for the Emperor's train
Flags
1 white silk moirι for the 1st commander's sotnya and 4 others likley black silk moirι – with gold fringes and cords.


However, Zwegintsov (writing from Paris in the 1960's) gives the dark flags as green and the cords as silver, and shows some gold embroidery on the tails of the pennons.
I think he may have seen a relic carried into exile, with the black aged into dark green and the gold lost from the cords. So I would go with the black and gold cords,but add the embroidery.
Lance pennants, if carried (not usual for cossacks) would have been white and/or blue – or made up to imitate, as a decption, any Polish or other uhlans known to be in the same area.
Uniforms
(notice the distinctive moustaches)

link