This the first AAR Ive done using the rules as laid out in Full Thrust Cross Dimensions: Continuum.
This battle would be Barry's Battlestar Galactica Colonial Fleet against my American Republic fleet by Brigade Models.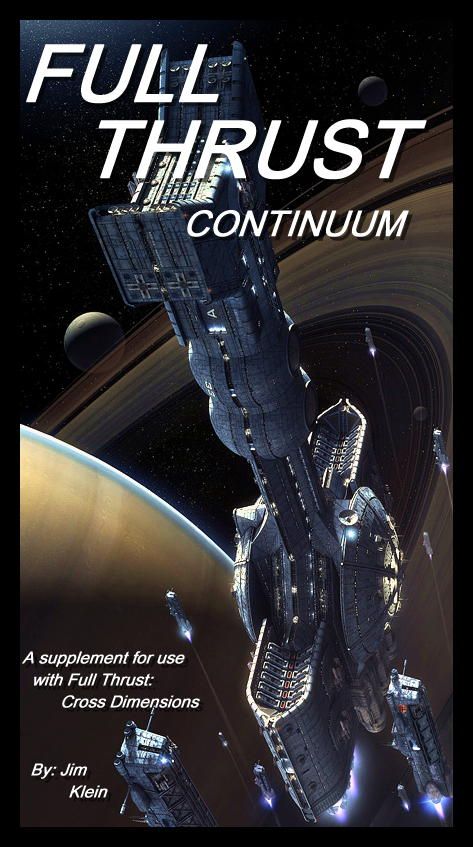 The Fleets:
BSG Colonials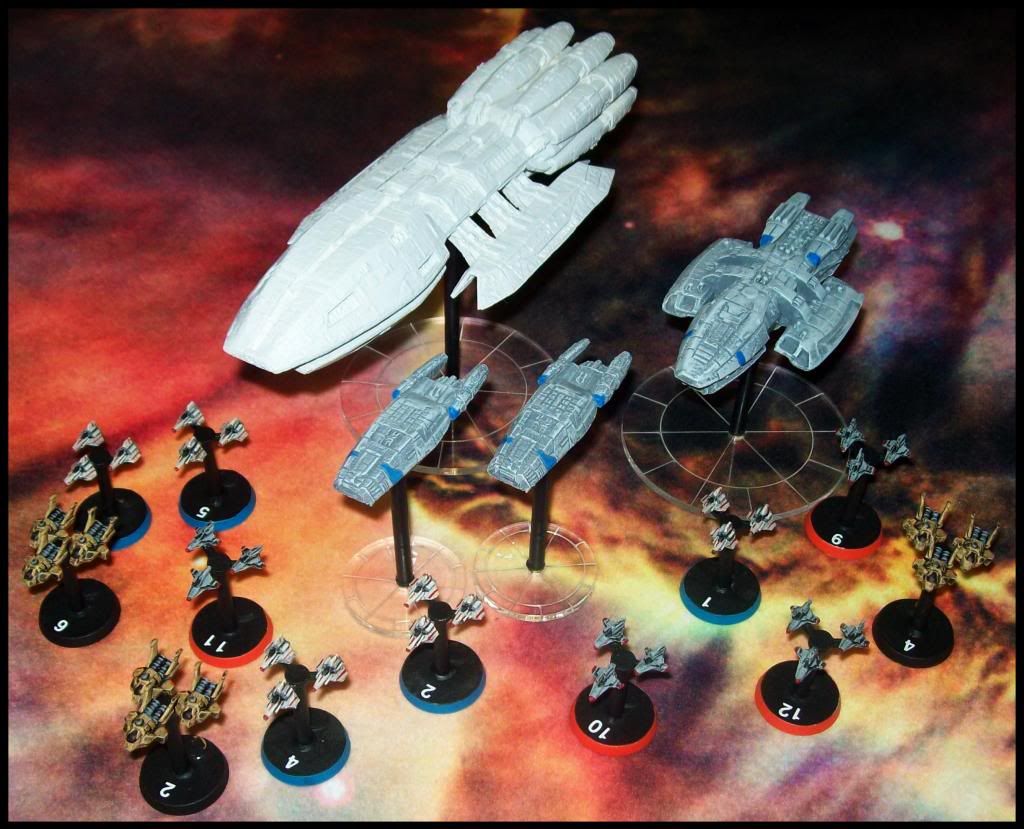 This fleet is centered around the battlestar pegasus from Bad AZZ models and the smaller ships produced by Ravenstar Studios. All would be loaded out with Flak Ammunition for their guns.
Thr Flak rules from Continuum are :
Flak Ammunition (Barrage Fire)
K-guns of Class 2 or larger can be equipped to fire high explosive shells timed to detonate away from the ship. If fired in this mode a K-gun may fire as a single PDS
(-1DRM) up to 12mu away. The Flak round will detonate against the target fighter, missile etc, with a 2mu blast radius so it is possible to affect multiple targets including your own ordinance. If a ship, friendly or enemy, is within the blast range it will take a single point of damage on a roll of 1.
Orders must be written for each gun that will fire Flak ammunition that turn and may not be changed until the order writing phase of the next turn. Players may simply make a small not on the SSD at the beginning of the turn for each weapon that will be firing Flak. We simply put a small 'F' next to each gun.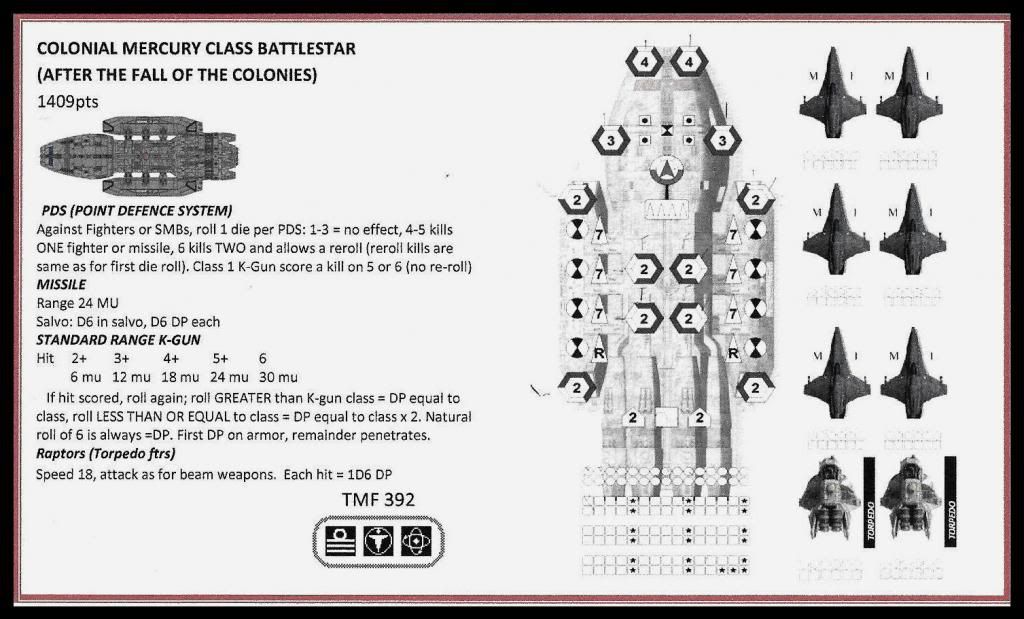 The American Fleet: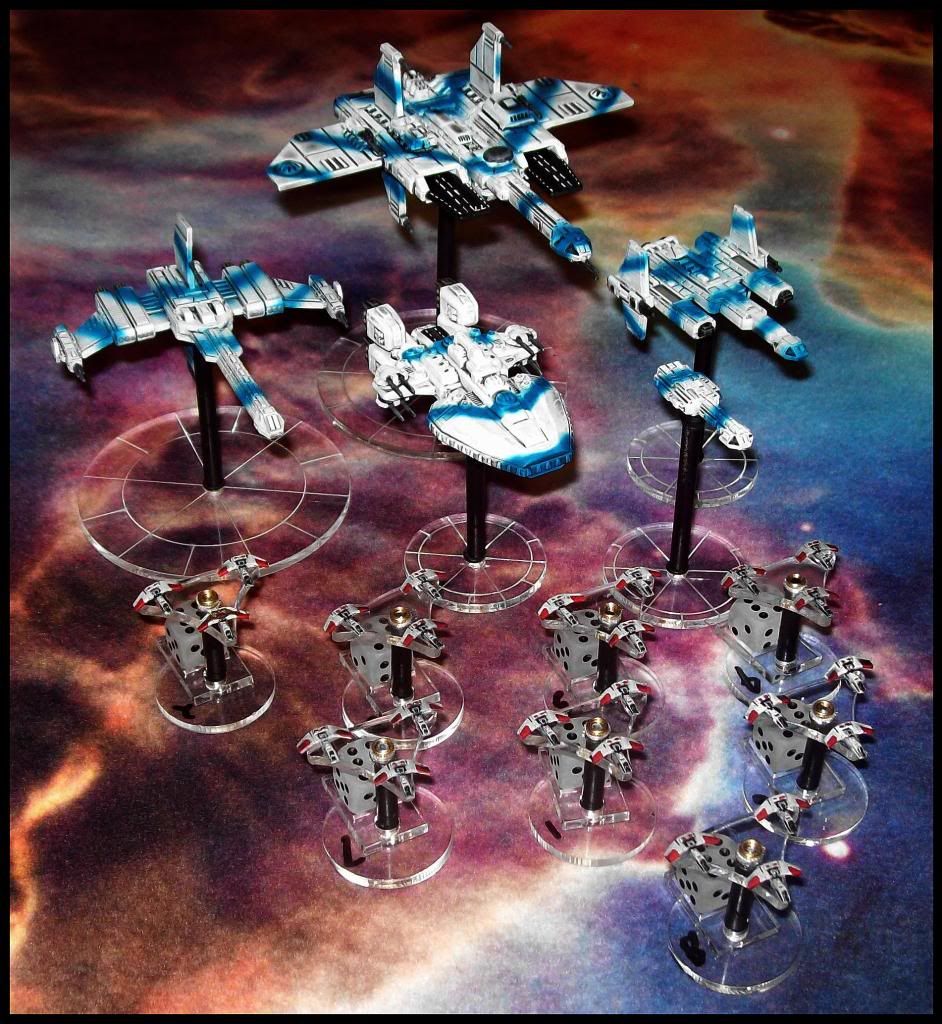 The escort Cruiser in the center is from Khurusan.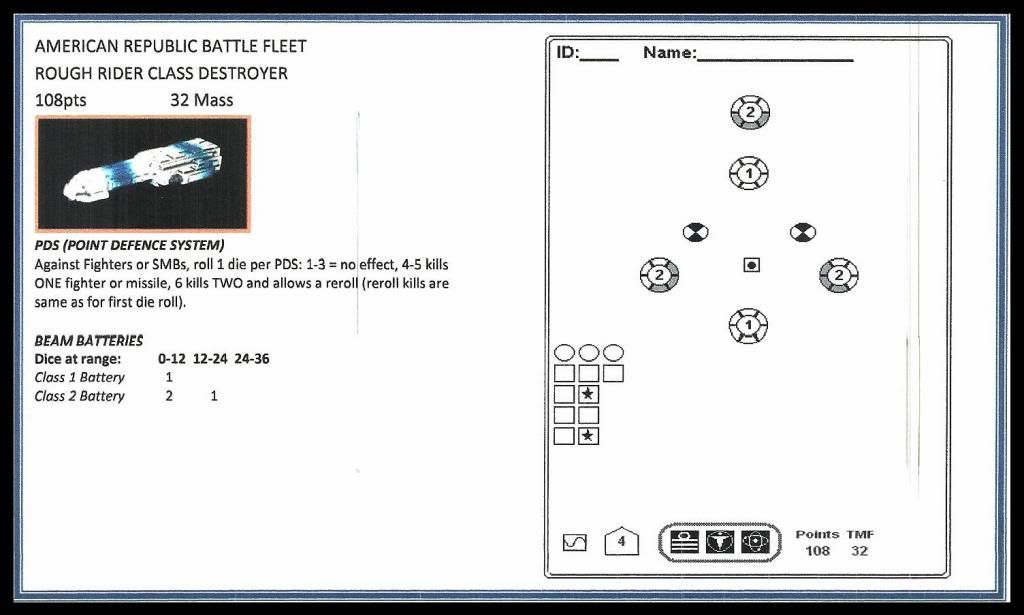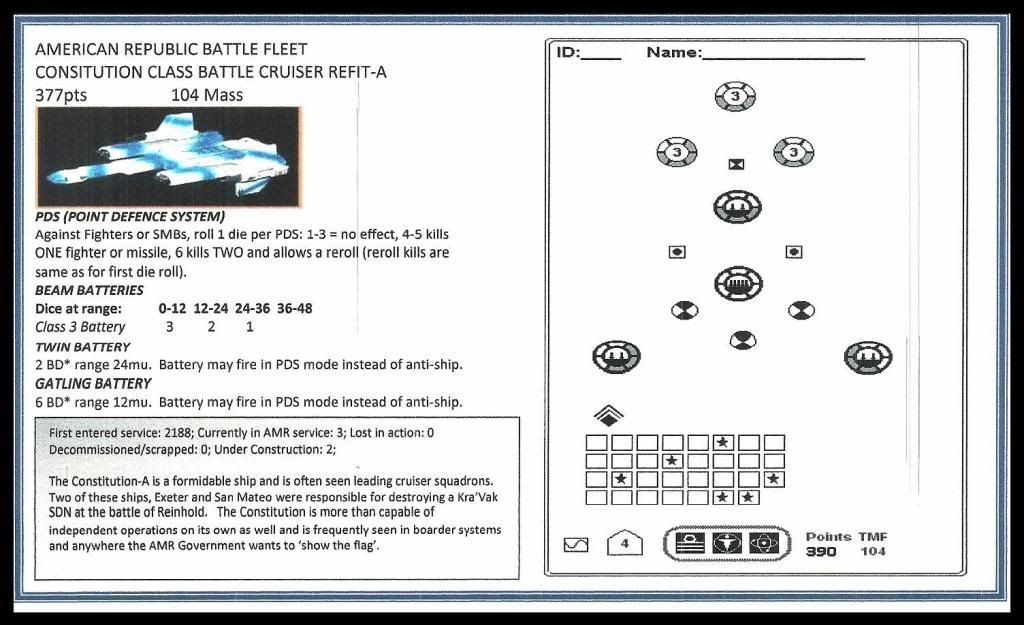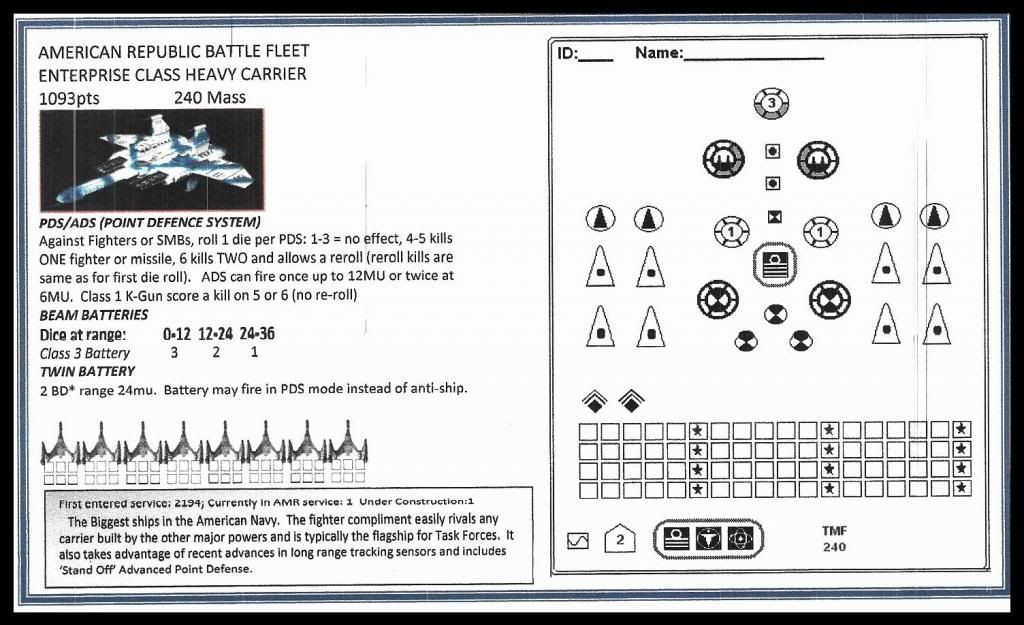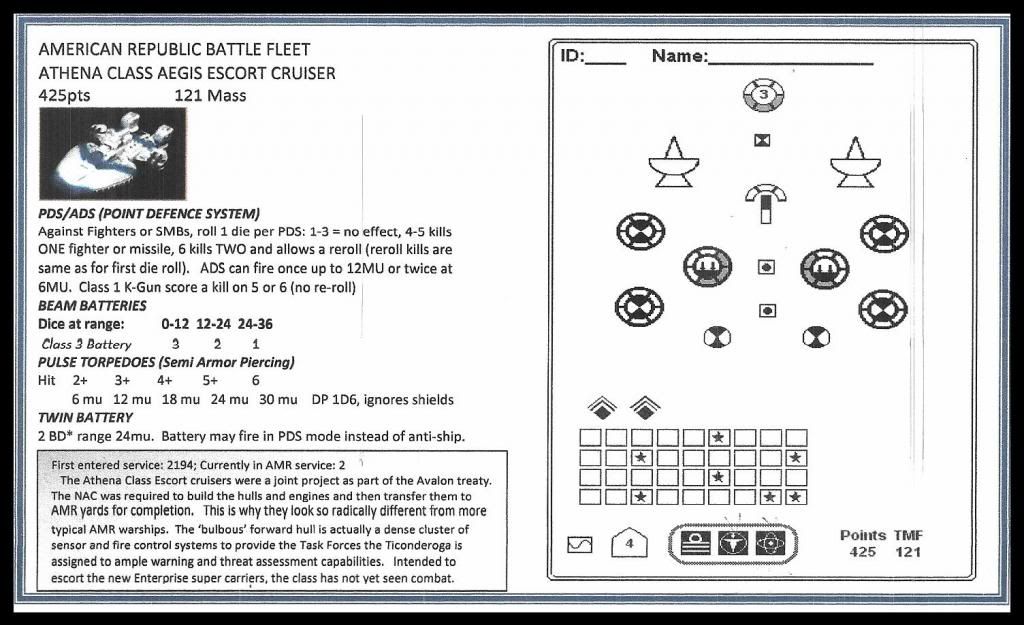 The set up

I knew from start I was going to be fighting an uphill battle. for one, Pegasus (Star Ranger designed this version) was extreamly difficult to take down. Second, he had more planes than I did and could launch them faster.
We were playing with the Random event cards and I played the 'tribbles' card on one of his destroyers. The ship would ultimetly be overrun with the things and spend the game uncontrolled.

I advanced and launched the first wave of fighters.

He pretty much did the same .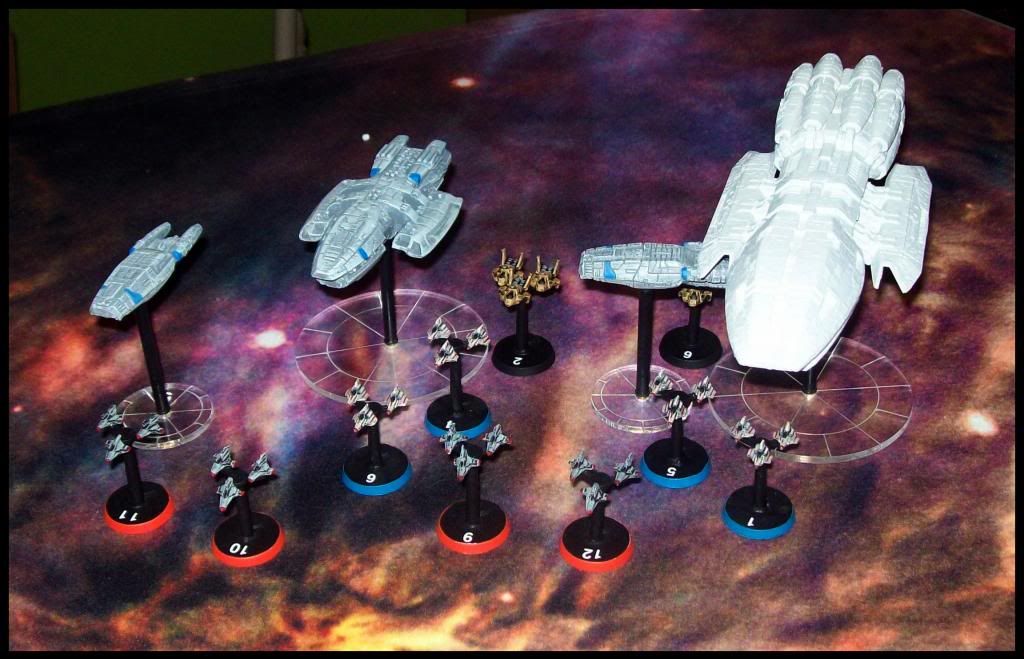 I argued that since Pegasus's flight pods are still under construction the ships launch rate should be cut in half, heh. I lost that discussion- ah well….lol
Pegasus's line of fire was blocked by an asteroid field but the two destroyers and Atlas battlestar were able to score damage on the Athena heavy escort forcing a threshold check. The ship would lose one of its twin beams and a PDS. the fault in the desigh became very obvious. If it lost its ADFC early on to a bad roll is mission would fail miserably. First thing after the battle will be to redisgn her with a redundant ADFC.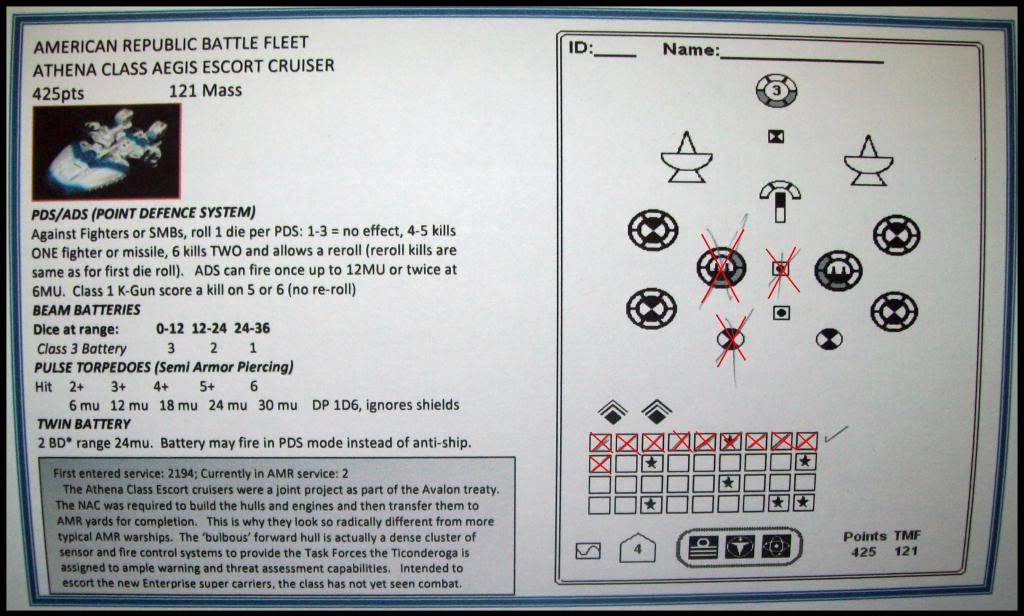 I returned fire with everything I had wich at this range wasnt much. I did however manage to reduce the armor on the Atlas to about half.
Turn two
I played this card on one of Pegasus forward K-guns but unfornutaely i rolled badly

The fleets closed and I launched the rest of my planes which he interecpted and a large dogfight insued. This would be a bloody skirmish with only two Vipers six american Hammer Heads survivng.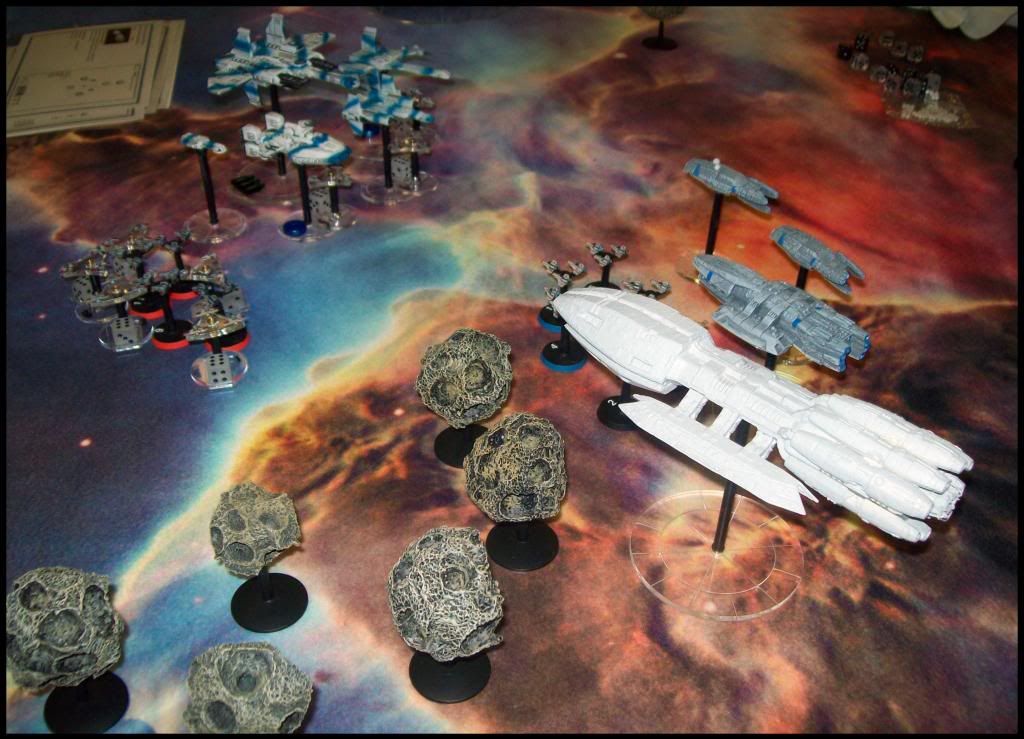 The two fleets continued to close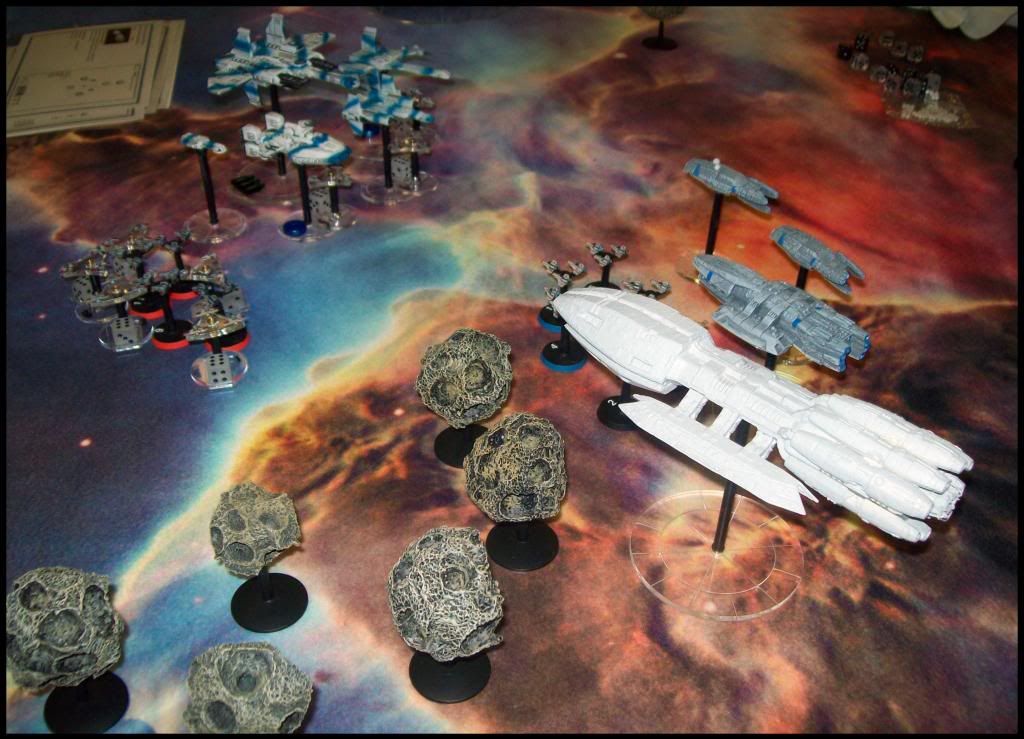 I played this card to give my destroyer a second move figuring that i might as well get the most out of him before he was blasted.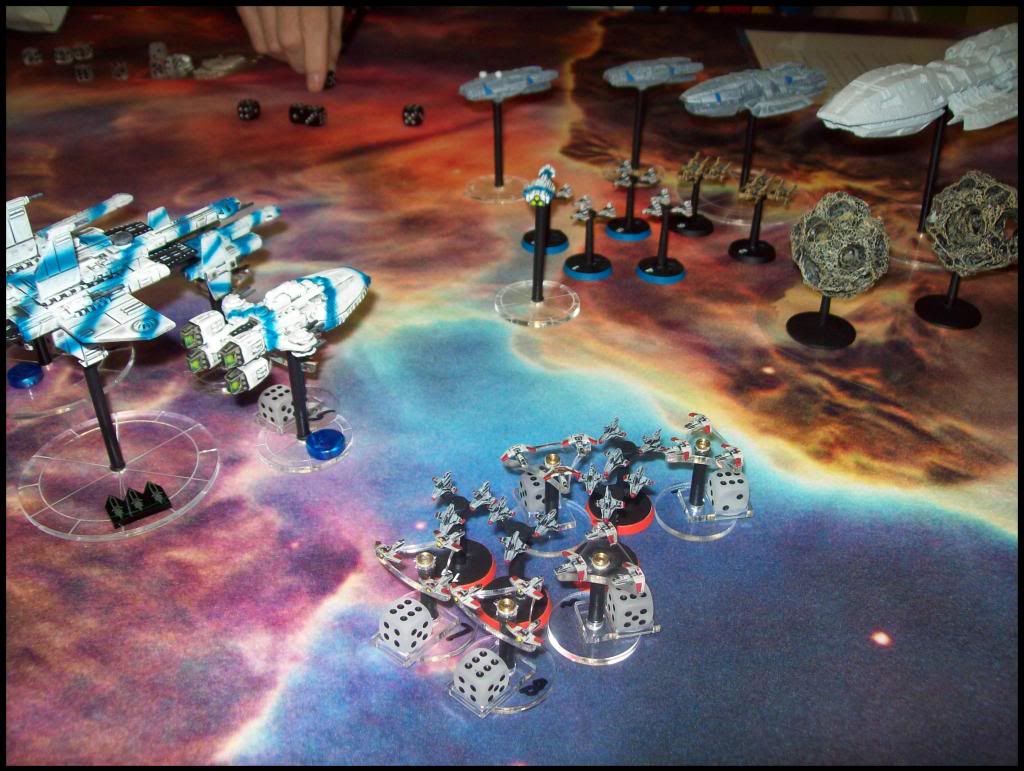 Things went bad from there. every gun in his fleet fired on my battleship

I played a reinforced shields card which prevented some of his guns from doubling but it wasnt enough.
In return I caused some more damage to his Atlas and shot up his destroyers pretty well. My destroyer also took some fire rattling her crew causing tham to miss with everything despite being at near point blank range!
The damage tally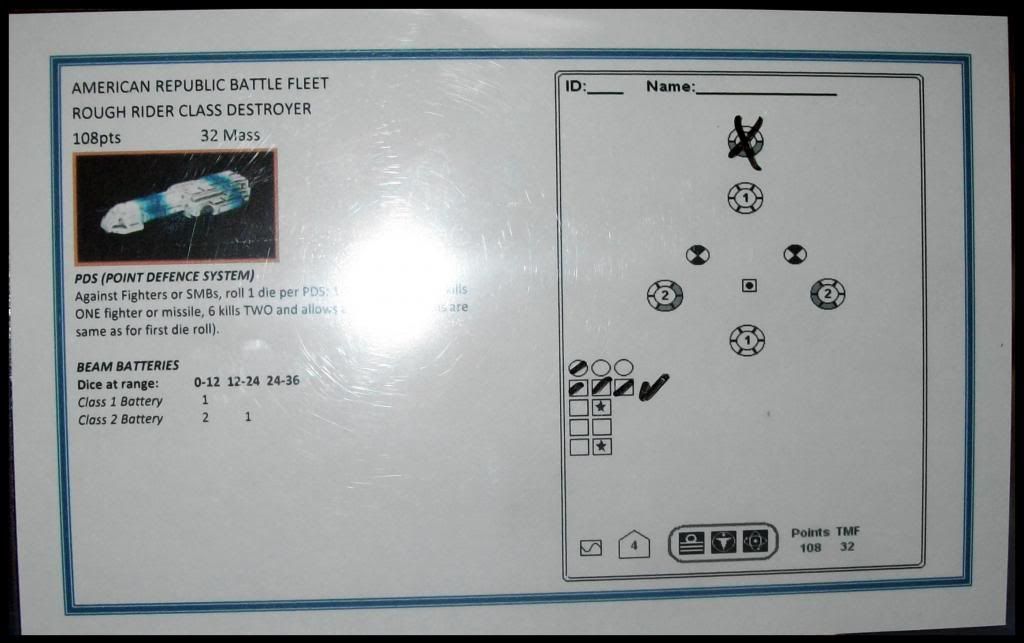 The best part, for me, is the tribble problem on the first destroyer had gotten out of control and completely occupied the crew. The ship would be out of the battle for the remainder of the game.
My fleet put as much fire as it could into the Atlas forceing a threshold. Two of its hanger bays would be knocked with one causing a secondary explosion that inflicted an additional point of damage. The Raptor squadron it contained was also destroyed.
Now for the worst part. The battleships crew worked franically to get its reactor damage under control but was not succesful. At this point i should have just ejected it since the ship was too badly damaged to realy do anything. Morphy's law being what it is I rolled a 5 for the reactor and it exploded! In FT:Conyinuum reactor explosions are 3MU in diameter and can affect nearby ships. The fighter squadron that was screening the ship was vaprorized. The Heavy carrier took some minor hull damage to its port landing bays. The battle cruiser was far less fortunate tho as the battleships starboard weapon pod slammed into its port aft quarter casuing considerable hull damage and knocking out one twin beam mount.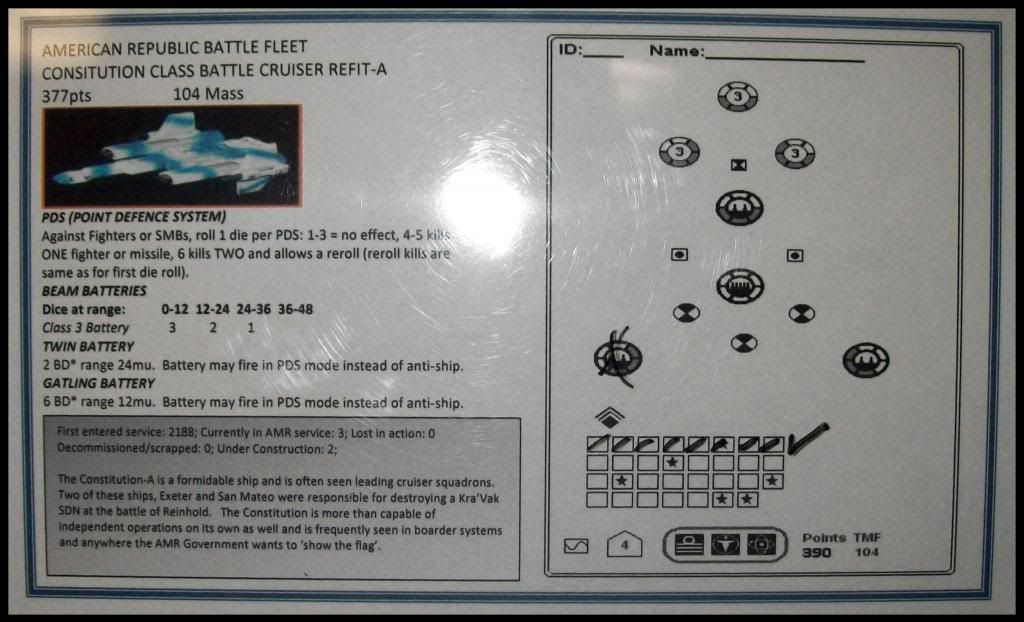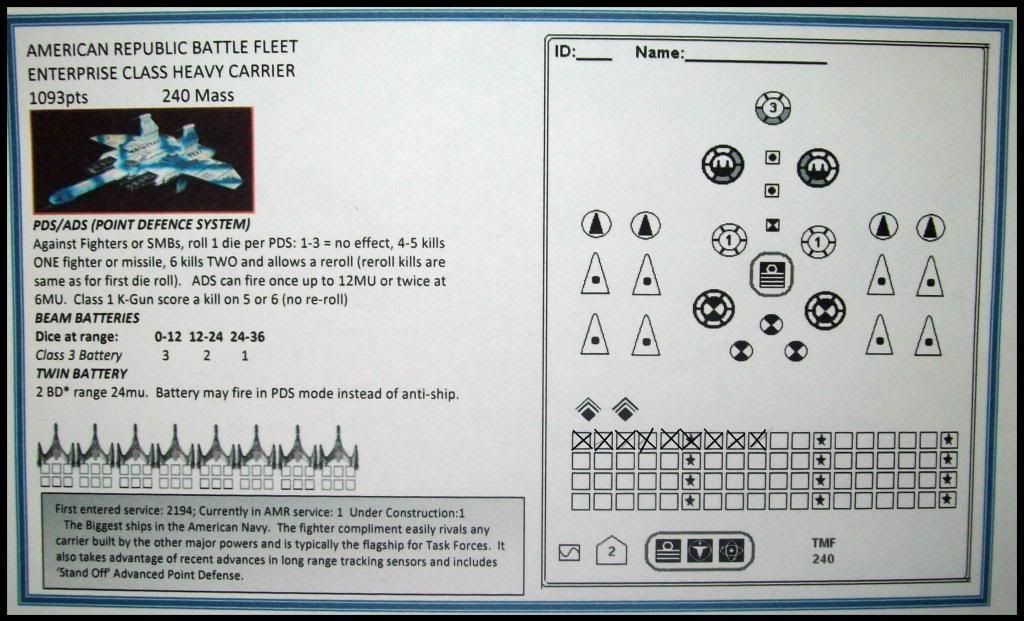 Ya ever have one of those days?????
Turn three
Something had to be done. the situation was clearly untenable and staying in front of his guns was a bad idea.
I poured on the speed and fortunately for me, so did he. The two fleets passed each other with his vipers in pursuit of my ships.
This position actually suited me best since most of turrets faced another direction- he thought we would be nose to nose. Every gun that could bear fired on his Atlas Battlestar and destroyed it.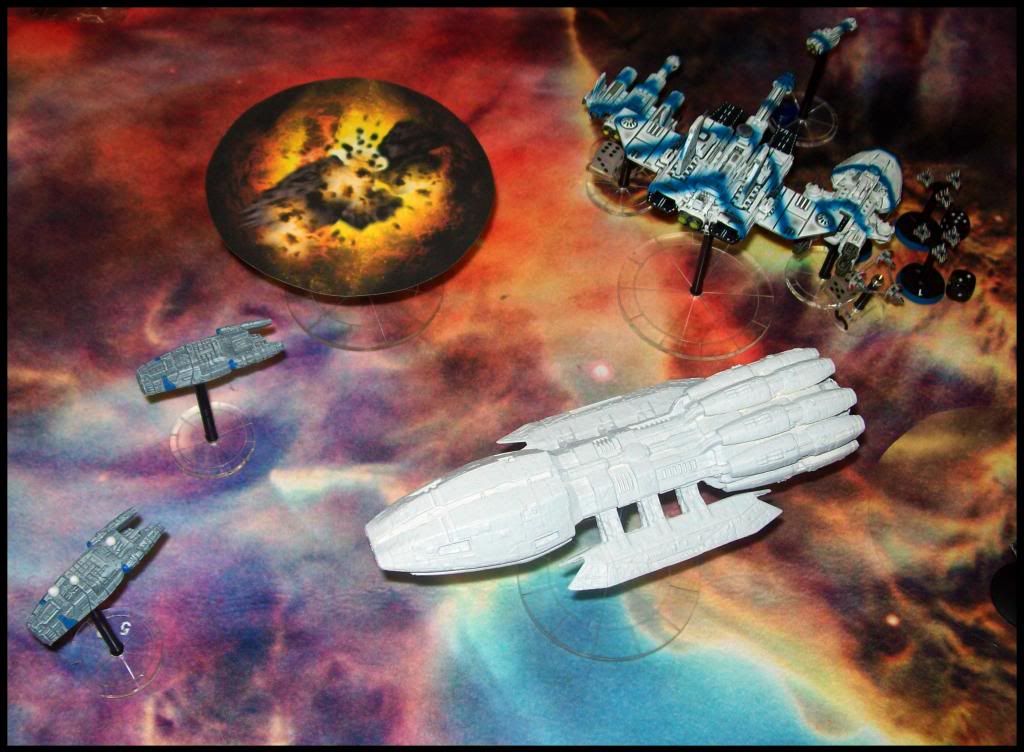 The planes pursuing my fleet went after the Athena with a vengence viryually gutting her despite taking hurrendous losses. Even with her damage she was still up to the task of providing anti fighter cover but with her shield grid destroyed she wouldnt be able to do it for long.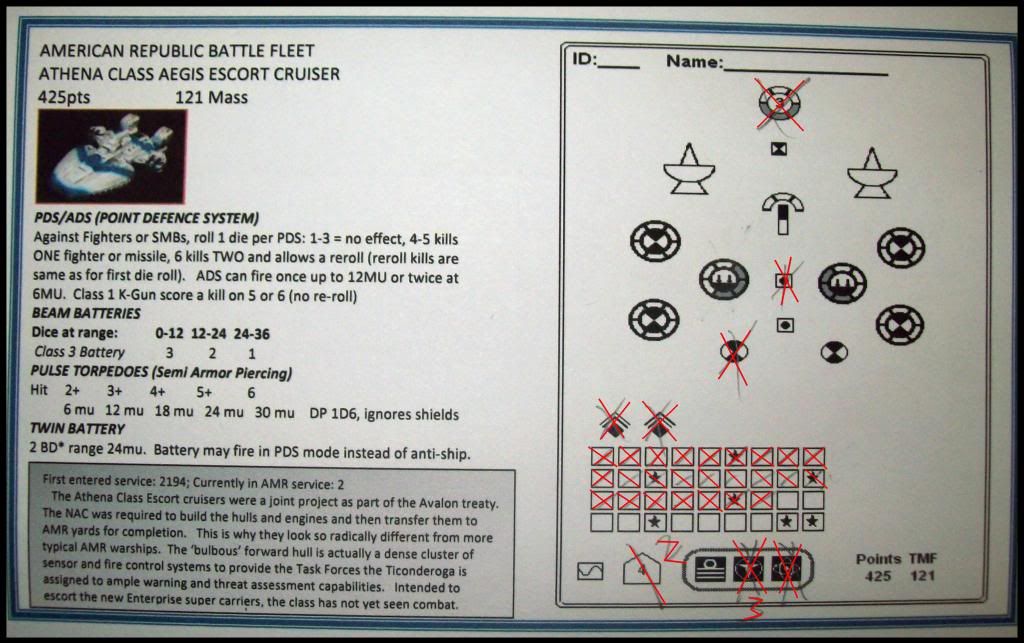 The tribbles continue to breed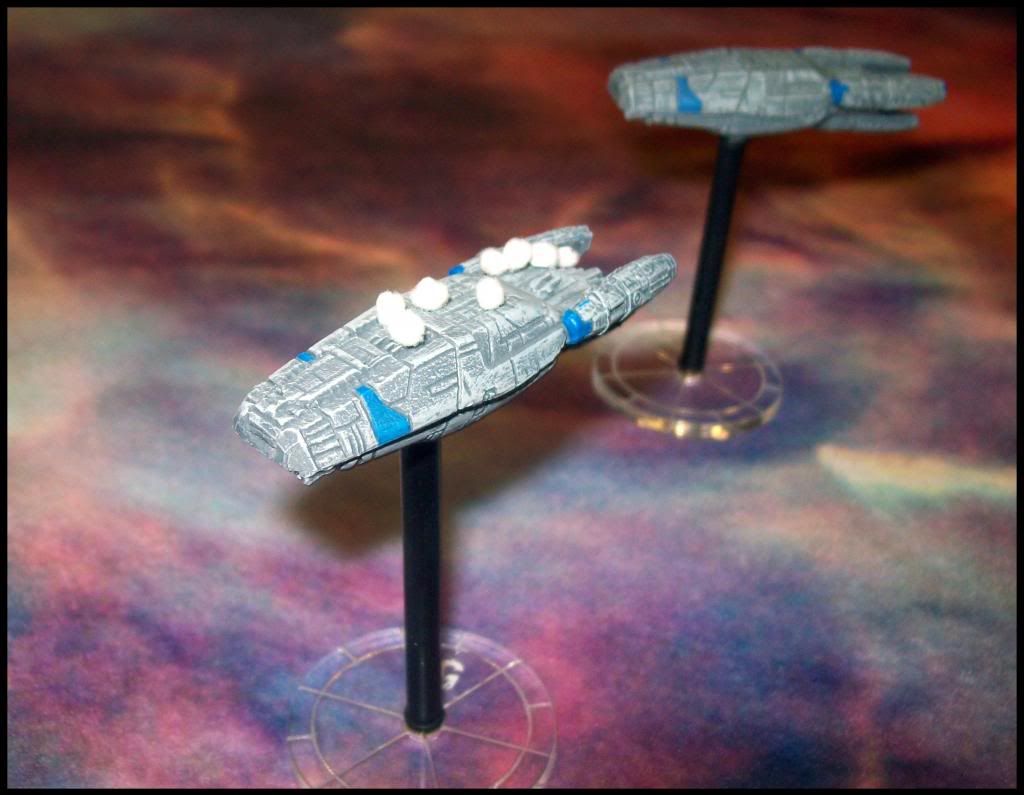 Turn four
This was pretty much it. I kept opening the distance and he did the same. With nothing to lose i decided to send my fighters after pegasus and his surving vipers made another attack on my escort cruiser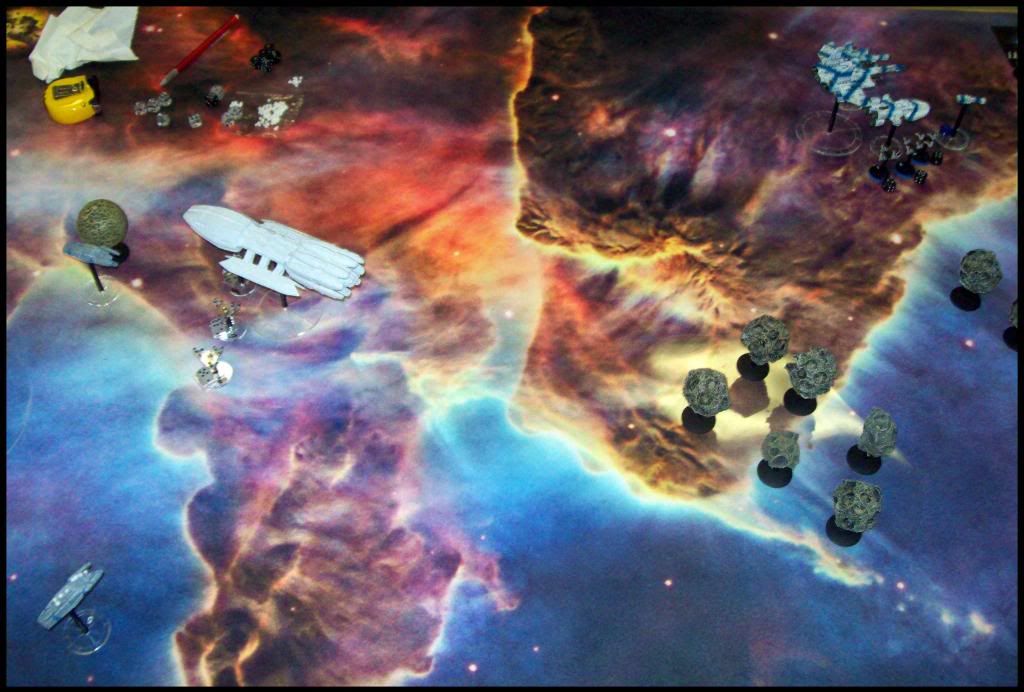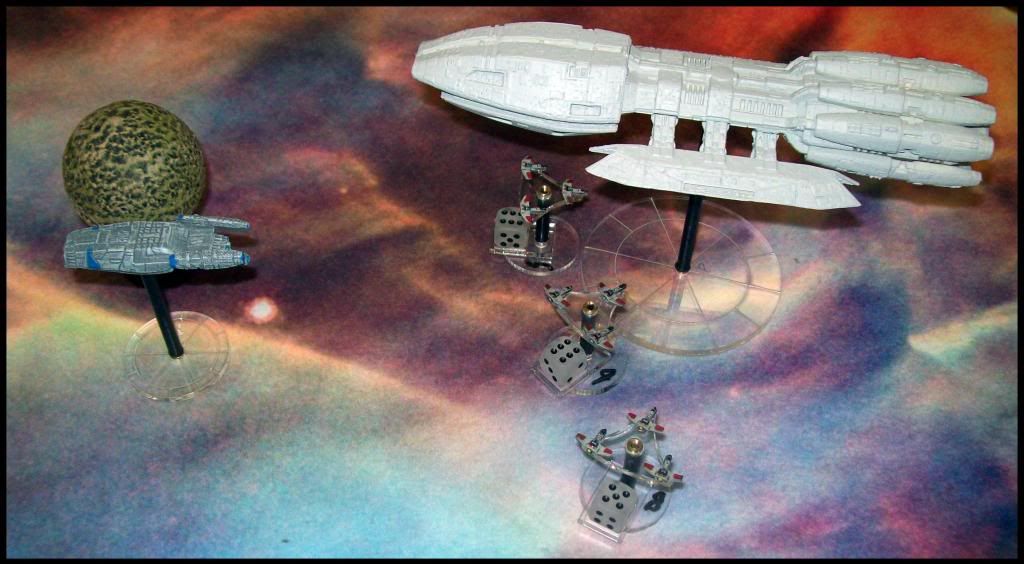 All of his vipers would be destroyed with little effort on my fleets part.
My planes had to endure his flak barrage first which casued fewer casualties than i thought it would. Even so I should have used the fighters secondary move to get behind the ship and away from those front guns.
The PDS fire they took next was even more devestating though. Eight PDS batteries is no joke.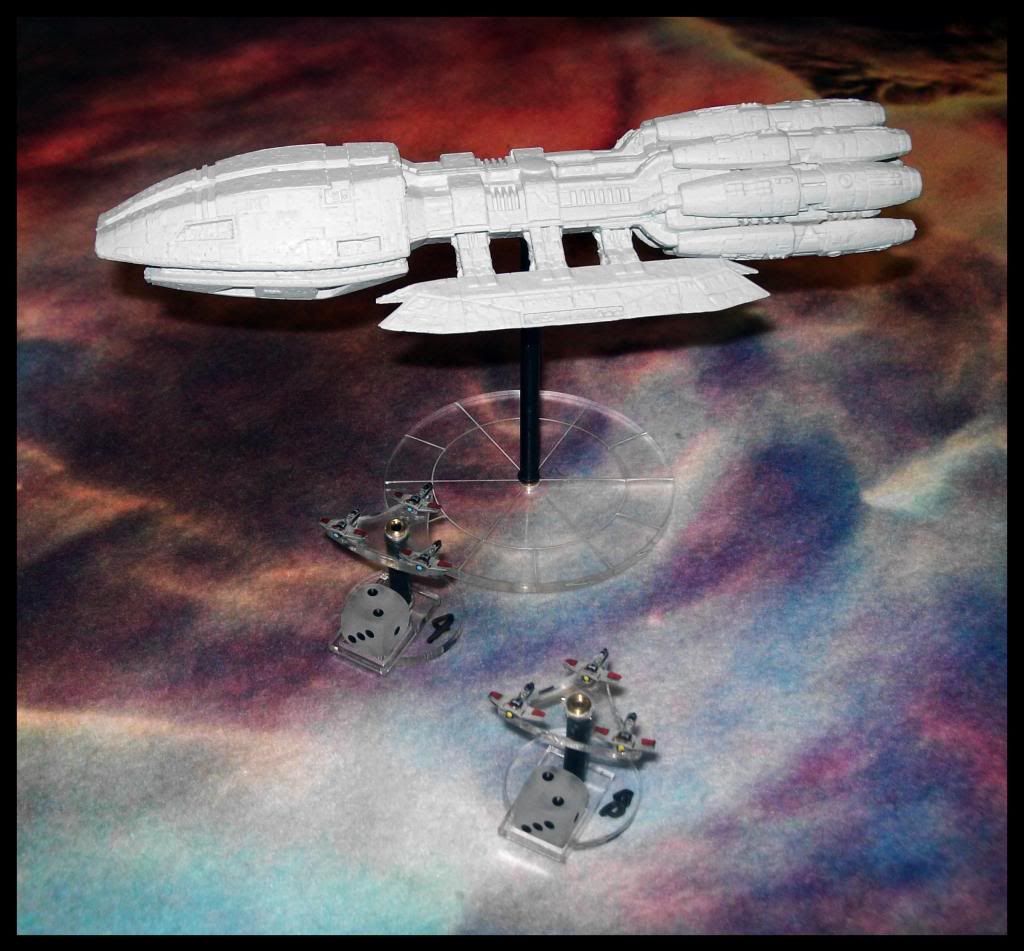 The four survivors managed to do some damage but hardly enough to matter.
At this point we decided to call it. It would have taken at least three turns for both fleets to swing around to meet each other. Anyway and i would have been at a considerable disadvantage. I opted to continue off the table and jump away once my last planes had been recovered. The reactor damage to the Athena was also repaired at the last second.
All in all a good game that probaly was a draw technically but i'll count it as a loss for me since the colonials were materially stronger in terms of guns. At least I dont have a ship floating thru space with a tribble problem!
Any and all comments welcome!!!