This is the Irrational Designs model, via Shapeways.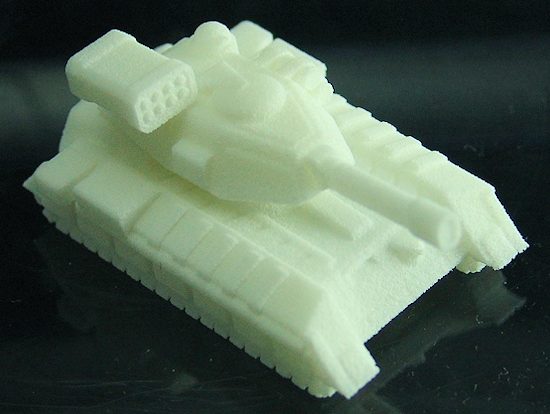 Looks like a Class 4 (large) vehicle to me.
The "oval" gun probably isn't an autocannon or high-velocity cannon, and is too large to be MDC or HKP, and lasers don't need long barrels… so I went with DFFG.
The other weapons are the rocket pack on the turret top, the machinegun turret on the main turret rear, and the machinegun in the forward hull.
I didn't know what the "strapped on tubes" on the turret side were, so made them targeting systems.
Equipment Item                   VSP : BVP     Spaces   Cost


---


Vehicle, class 4                  20 :  0          20     20
Armor class 4                     20 : 36          20     36
Chemical Fuelled Engine           20 : 36          20     43
Fast tracked                      20 : 36          20     57
1 class 5 DFFG in 
  Full traverse turret            20 : 36           5    132
   with Enhanced fire control     20 : 36           5    152
1 GMS/L with Enhanced guidance    20 : 36           3    182
2 APSW's                          20 : 36           2    186