So I headed down to Dollar General to buy some nerf guns which I'm going to make into sci-fi or steampunk guns like everybody else.
While there, however, I stumbled across two very nice finds.
First was a Glorious Mission (sub-brand of New Ray Toys)set with a Sikorsky Sea King.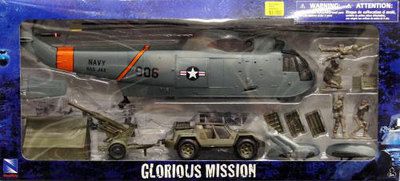 At $15 USD it was a bit more than my usual splurge, but the chopper was too cool to pass up. It's probably all pretty close to the scale of the army men inside, but it's all close enough to 28mm for my uses.
The the Humma-Jeep will likley end up as a post apoc vehcle. The Sikorsky will see use as a heavy transport in my 28mm sci-fi, but I haven't decided whether to convert it to Jet VTOL or leave it as a helicopter. The computer, tent and crates are all good size for 28mm, and at least the gun part of the AA cannon will have use somewhere.
They had the other Glorious mission sets as well, including one with an apache and the smaller set that comes with a wheeled APC that some folks here have converted, though both of those vehicles looked larger than I would want for 28mm.
The second surprise present was a "Lazer Wheels" Tank. I don't have a picture of it yet. Suffice to say it's a 3 dollar rippoff of an M1 abrams that might go well in a 28mm sci-fi setting. The height of the hull (not including turret) is around 32mm in the middle and it's got an odd barrel that looks rather sci-fi as well as a nice bit of detailing. The only drawback are a couple of light and sounds buttons on the top that I'll cover with something.
I'll probably blot more in-depth review of these in a couple of weeks with proper comparison shots, but I wanted to post this now so folks have a chance to get them in case they disappear in the meantime.