Renegade Warrior Designed by Dark-Art-Studios
Vengeance 005 sees a debut release from sculptor Oliver Townshend with this fantastic hard edged miniature, the muti-piece kit has been designed so the arms and head have a degree of movement to them so you can customise the pose.
There are two variations of the kit, version I comes with a horned helmet, diamond shaped shield & 1 of 2 swords.
see 360° view here: dark-art-studios.co.uk/Vengeance_miniatures/renegade_warrior/RENEGADE_WARRIOR.html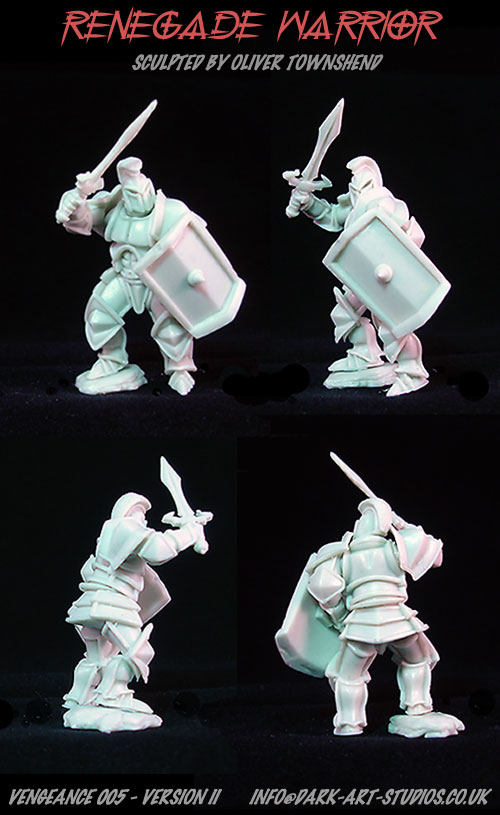 version II comes a plumed helmet, rectangular shield & 1 of 2 swords
Miniature specs
Description: muti-piece kit consisting of 10 parts.
Parts include:
• 1x body piece
• 1x head
• 2x arms
• 1x shield hand
• 1x shield
• 1x sword
• 1x cape
• 1x Rock piece
• 1x 25mm Rocky Base

Mini height: approx 44mm [feet to eyeline].
Material: High quality Resin [grey].
Designer: Oliver Townshend.
Price: 14.99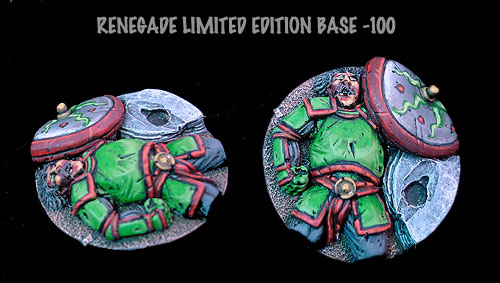 theres also a Limited Edition base sculpted especially to go with the renegade miniature. priced £1.40 GBP
To order please e-mail: [email]info@dark-art-studios.co.uk[/email]
alternatively you can buy our items via ebay link:
ebay.co.uk/sch/dark-art-studios/m.html?hash=item460590160f&item=300741039631&pt=UK_Toys_Wargames_RL&var=&rt=nc&_trksid=p4340.l2562

check out all our latest products on our site: dark-art-studios.co.uk
we also have a facebook page which you can follow here: facebook.com/studiodarkart