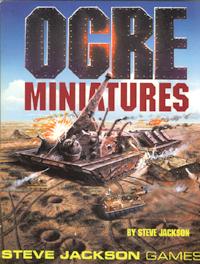 ---
---
If you would like to add your opinion to this webpage, use the following form or send email to the editor.
---
Steve Jackson Games' support page for all games in the Ogre series. Links to the official miniatures page, with scenarios and optional rules. Also links to a support page, giving information on Ogre mailing lists and forums.
Who makes the big Ogre "macrotures," and why you can't buy them...
The original OGRE artist tells his story.
If you know of other resources for this game, please let us know by sending email to the editor. If you have material you would like to make available to the Net, also let us know.
---
Last Updates
14 August 1999
Ogre Macroture story
Mark Siefert's website is gone
Ogre con pictures no longer online
2 November 1997
added new links
11 April 1997
reorganized
27 January 1997
page first published
Comments or corrections?