Lightning Strike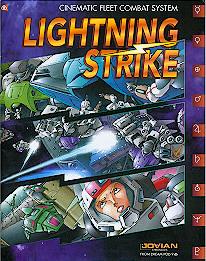 The "cinematic fleet combat rules" for the Jovian Chronicles line of role-playing products, in which major warships - supported by mecha (exo-armors), space fighters, and space infantry - engage in star battles. Rules progress from the Quick-Start Rules (exo-armor only), to the Basic Game (adding fighters and infantry), then adding warships, and finally to the Advanced Game (with player-selected optional rules). Includes a campaign game in which two fleets spar over a remote part of the Solar System, with rules for strategy, repair, and reinforcements. Can be played with miniatures (not yet released) or with the fold-up counters provided.
Period
Science Fiction - the Jovian Chronicles universe
Scale

Ground Scale
1 cm = 500 meters
Time Scale
1 turn = 30 seconds
Figure Scale
1 model = 1 unit (exo-armors, fighters, warships)
1 stand = 1 squad (infantry and exo-suits)
Miniature Scales
"The scales of the counters and miniatures themselves are rather abstract; if they were actually in scale with the playing field, they would be practically microscopic!""Game miniatures from Dream Pod 9 may be available in the future to create more exciting and attractive tabletop battles."

Basing
Individual
Contents

64-page rules booklet
16-page "Quick Start Rules" booklet


6 full-color counter sheets (must be cut apart and folded)


Designer
Wunji Lau
Publisher
First printing 1999 by Dream Pod 9.