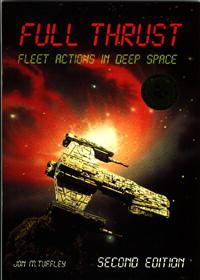 ---
---
If you would like to add your opinion to this webpage, use the following form or send email to the editor.
---
Well, actually the U.S. publisher (GeoHex), but until Ground Zero Games gets on the web, this will have to do. Nothing much at the website yet.
The best website for Full Thrust, and it links to everything else out there. Includes the FAQ, lots of optional rules (including Star Trek, Star Wars, Mobilesuit Gundam, Battlestar Galactica and Babylon 5), ship designs, scenarios, counters, record sheets, and more.
Unofficial rules for using Full Thrust as the tactical component in a strategic game of Imperium.
Optional rules and scenarios.
Description and favorable recommendation.
Focuses on the miniatures rules from Ground Zero Games (Full Thrust, Dirtside II, and Stargrunt II). Place "subscribe gzg-l" in the body of the message, and send it to majordomo@csua.berkeley.edu. This list is run by fans, though the GZG folks do "monitor" the list.
If you know of other resources for this game, please let us know by sending email to the editor. If you have material you would like to make available to the Net, also let us know.
---
Last Updates
13 October 2001
Mark Siefert's page has moved
17 August 1999
updated mailing list info
27 February 1999
added David Manley's page
26 August 1998
added O'Sullivan review link
25 August 1998
added Integration link
Comments or corrections?