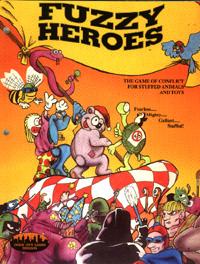 ---
---
If you would like to add your opinion to this webpage, use the following form or send email to the editor.
---
Fuzzy Sooper Heroes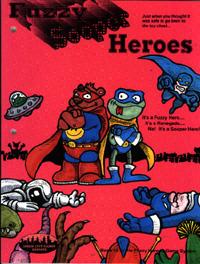 This supplement adds a new class of Fuzzy Hero, the Fuzzy Sooper Hero. The 80-page booklet includes 24 new powers, plus a code of conduct (Chivalry) which all Sooper Heroes must follow. The Three Rules of Chivalry in a nutshell are 1) don't retreat unless you have to, 2) fight the meanest bad guy first, and 3) try to make friends if you can. Also included is a new scenario, "The Assault on Castle Stuffmore."
Under the Covers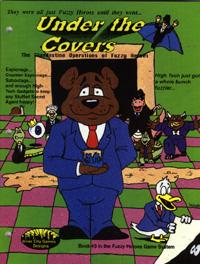 This supplement adds another new class of Fuzzy Hero, the Fuzzy Secret Agent. This 80-page booklet includes such Top Secret Ability Stuff as sabotage, espionage, and double agents. The Top Secret Gadget Stuff section includes rules for more than 50 new items of equipment. Also included is a new scenario, "Brenda's Being Grounded!"
Helmets
Inner City also sells helmets for the game. The helmets do not carry team logos.
---
If you know of resources for this game, please let us know by sending email to the editor. If you have material you would like to make available to the Net, also let us know.
---
Last Updates
14 October 1999
supplements updated
26 December 1997
helmet info
13 September 1996
cover art added
13 August 1996
page published
Comments or corrections?