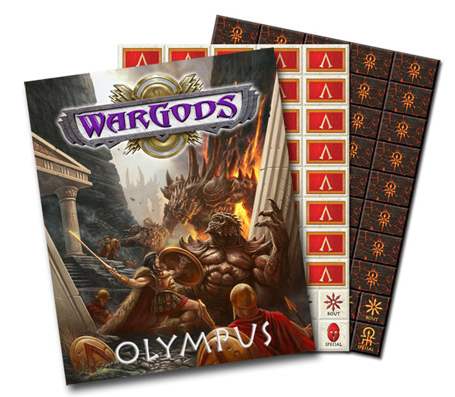 Rating:
(8.00)
Total Votes: 2
Description
Setting
Game is set in a universe loosely based on mythological and ancient Greece. Players take the role of Demigods, sons or daughters of the Greek gods, with a chosen city-state as home base. As Demigods defeat other Demigods, they rise in power and ability. Players may also fight against the ancient opponents of the Greek gods – the Titans.
Demigods select their forces using a point system. A Demigod's selection of parent-god and home city determine which units he can have in his force, and which powers he starts with and can develop. Armies are composed of troop units, special characters and mythic creatures, plus the Demigod. Players must select a certain proportion of basic troops (hoplites, generally), and not too many missile troops; they can also select allies from other, compatible city-states.
Gods
Players may choose their Demigod to be a son or daughter of:
Apollo
Ares
Artemis
Athena
Dionysus
Hades
Hecate
Hephaestus
Hermes
Poseidon
Zeus
City-States
Players may select any city-state compatible with their Demigod's chosen gender and parent-god.
Amazons (special case, not a city-state)
Athens
Corinth
Mycenae
Sparta
Troy
Rules System
Game is played in turns, but there are no individual player-turns. Instead, at the start of each turn, players issue orders (counters) to their forces, then roll to determine which player has the Edge for that turn. The player who has the Edge may activate between one and three units, after which players alternate activating units until all units have been activated.
When a player has a chance to activate a unit, he may choose any unit (of either player!). The troop unit or character then takes action based on the order previously issued to it.
Most actions in the games are resolved by Tests and Saves, using a 10-sided die. For a typical Test, a target number is generated: 6 + defender's rating - attacker's rating. The attacker must roll that number or higher to succeed. For a Save, a player rolls a d10 versus the applicable rating: a roll equal to or lower is a success.
Rules cover mounted combat, chariots, flying units, and mythical powers.
Campaign rules generate scenarios, set on land, at sea, or underground.
Editions
Second edition published 2019. Second edition also available in limited-edition Collectors Edition.