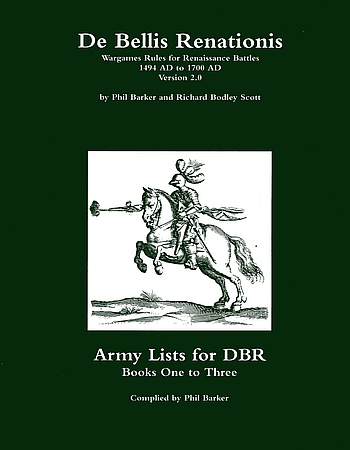 Wargames Rules for Renaissance Battles 1494 AD to 1700 AD
Rating:
(6.00)
Total Votes: 3
Editions
Originally published by Wargames Research Group. First edition in 1995. Version 1.1 in 1997. Version 2.0 in 2004, reprinted in 2015 to include all of the army lists.
Supplements
De Bellis Civile, Volume 1
This unofficial supplement contains 18 scenarios for use with DBR. Each is 2-3 pages, and includes historical background, map, orders of battle in DBR terms, and victory conditions. All battles will fit in 6' x 8' or less. Includes bibliography.
THE SCENARIOS
Title
Forces
(stands/points)
Summary
Powick Bridge
23 September 1642
13/136 Royalist
vs
16/145 Parliament
Early cavalry/dragoons duel
Edgehill
23 October 1642
149/1190 Royalist
vs
131/831 Parliament
Royalist army abandons its defensive position to attack inferior Parliamentary army
Tadcaster
7 December 1642
42/251 Royalist
vs
17/172 Parliament
Flank march catches Parliamentary army unprepared
Braddock Down
19 January 1643
24/201 Royalist
vs
21/160 Parliament
Narrow hedge-lined lanes mark the escape route if Parliament must retreat from this fight
Coleford
7 February 1643
21/187 Royalist
vs
7/54 Parliament
Royalists must force small Parliamentary force from the town
Hopton Heath
19 March 1643
18/263 Royalist
vs
26/196 Parliament
Parliament has the smaller force but the better position; the Royalists have "Roaring Meg."
Highnam
27 March 1643
23/204 Royalist
vs
13/116 Parliament
Divided Parliamentary force engages superior Royalist force in good position (town and redoubt)
Seacroft Moor
30 March 1643
21/235 Royalist
vs
16/120 Parliament
Royalist cavalry catch Parliamentary force on the march
Ripple Field
13 April 1643
23/253 Royalist
vs
19/180 Parliament
Parliamentary force mistakenly engages superior Royalist force; narrow lane is the only path of retreat
Launceston
23 April 1643
59/429 Royalist
vs
39/251 Parliament
Parliament must take the hill before Royalist reinforcements make the job impossible
Stratton
16 May 1643
59/429 Royalist
vs
60/370 Parliament
Parliament holds the high ground
Chalgrove Field
18 June 1643
30/317 Royalist
vs
26/246 Parliament
Battlefield involves a river and many hedges
Adwalton Moor
30 June 1643
96/779 Royalist
vs
57/398 Parliament
Desperate Parliamentary army must fight; ground is very broken
Lansdown
5 July 1643
89/798 Royalist
vs
52/435 Parliament
Inferior Parliamentary force on hill behind earthworks
Roundway Down
13 July 1643
70/672 Royalist
vs
48/393 Parliament
Fight in the hills, with the Royalist Foot arriving late
Gainsborough
28 July 1643
21/251 Royalist
vs
26/276 Parliament
Even match outside of Gainsborough village, with rabbit warrens in the hills
Newbury I
20 September 1643
138/1111 Royalist
vs
109/701 Parliament
Major battle, with Parliament holding Round Hill, a key feature
Winceby
11 October 1643
57/607 Royalist
vs
52/521 Parliament
Armies deploy on opposite ridges, with the Parliamentary Foot arriving late
Written by Julian Lander. 42-page, digest-sized booklets. Published by Keep Wargaming.
De Bellis Civile, Volume 2
Written by Julian Lander. 42-page, digest-sized booklets. Published by Keep Wargaming.