Days of Knights Rules Forum Board
---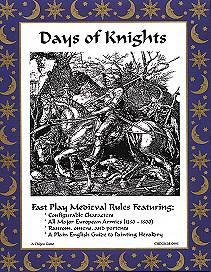 For discussing Days of Knights.
---
There are currently 9 topics on this Board.
Only Supporting Members can start a topic, but all members can post in these discussions. Would you like to be a Basic Member?
Back to the Medieval Rules Forum Boards
---
---
The Membership System will be closing for maintenance in 15 minutes. Please finish anything that will involve the membership system, including membership changes or posting of messages.
| | | |
| --- | --- | --- |
| Topic | Posts | Last Post |
| | | 14 Jan 2017 10:59 a.m. PST |
| | | 06 Jan 2008 6:49 p.m. PST |
| | | 27 Aug 2007 3:40 a.m. PST |
| | | 03 Apr 2007 1:27 a.m. PST |
| | | 15 Nov 2006 9:02 p.m. PST |
| | | 22 Nov 2005 9:17 a.m. PST |
| | | 13 Nov 2005 7:44 a.m. PST |
| | | 10 Dec 2004 11:42 a.m. PST |
| | | 06 Aug 2004 7:35 a.m. PST |