One-Hour Skirmish Wargames Rules Forum Board
---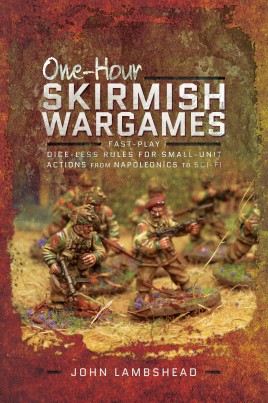 For discussing One-Hour Skirmish Wargames.
---
There is currently 1 topic on this Board.
Only Supporting Members can start a topic, but all members can post in these discussions. Would you like to be a Basic Member?
---
Enter the term you want to find in a message, and press Search.
---
Back to the Science Fiction Rules Forum Boards
Back to the Modern Rules Forum Boards
Back to the World War Two - Land Rules Forum Boards
Back to the World War One Rules Forum Boards
Back to the 19th Century Rules Forum Boards
Back to the American Civil War Rules Forum Boards
Back to the Napoleonics Rules Forum Boards
---
Areas of Interest
Napoleonic
American Civil War
19th Century
World War One
World War Two on the Land
Modern
Science Fiction
---
Featured Hobby News Article
---
Featured Recent Link
---
Featured Showcase Article
---
Featured Profile Article
---
Current Poll
---