"Army list reverse engineering" Topic
---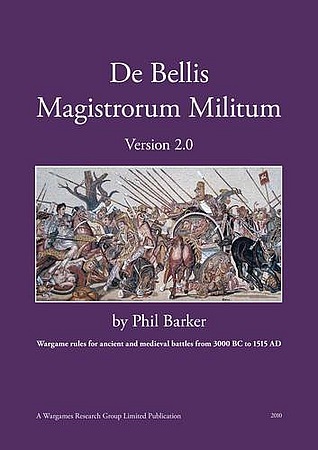 7 Posts
All members in good standing are free to post here. Opinions expressed here are solely those of the posters, and have not been cleared with nor are they endorsed by The Miniatures Page.
For more information, see the TMP FAQ.
---
Back to the De Bellis Magistrorum Militum Rules Board
Back to the De Bellis Antiquitatis (DBA) Rules Board
---
Action Log
07 Jan 2017 8:12 p.m. PST
by Editor in Chief Bill
Crossposted to De Bellis Magistrorum Militum board
---
---
The Membership System will be closing for maintenance in 10 minutes. Please finish anything that will involve the membership system, including membership changes or posting of messages.
Father Grigori
08 Oct 2016 3:57 p.m. PST

With the new DBMM lists now available, how about a bit of fun? This is an idea that has been lurking in my mind for quite while now. The inspiration was a Spanish Ax element which beat about 4 Roman Bd in one game. Unfortunately, I don't have a regular opponent or opponents to be able to do this myself, so I throw this out to people to try for themselves.

Fight a campaign using DBA or BBDBA (regular DBA is probably easier). Keep a detailed note of OBs for each battle, and note any exceptional circumstances, such as the Ax element noted, a complete failure of Kn or Wb to score any casualties, a single Ps element wiping out half an army, etc, etc.

Then, using only the notes of army composition and troop performance as recorded from the battles, try to build an army list for DBM/M, taking into consideration how elements should be graded and the relative proportions of troop types in each battle. Ideally, the person writing the list should have only the battle accounts, and should have not particitpated in the games. See how much any list produced would differ from the official list.

As I said, this is really for fun, but it does cut to the heart of how accounts of ancient battles are interpreted and translated into army lists.

Give it a try!

maverick2909
08 Oct 2016 6:40 p.m. PST

I don't play DBMM or DBA, but I do play DBM. My buddy has a Teutonics army that has Light Horse that will hands down kill knights guaranteed every game. He has this one light horse stand, he's even named it, that has killed multiple knights in a game, has killed knight generals, and even infantry.

Me personally, it isn't so much one unit, but rather with my Early Imperial Romans, the Auxilia (S). They are 100% underestimated by my opponents and even me some times. They do so much work on the field, they out perform my legionaries and German allies by a long shot. Why just today, they annihilated a Numidian flank march that was double their size!

warhorse
09 Oct 2016 9:25 a.m. PST

Father Grigori, what a *** brilliant notion! You sir are a true scholar! And a fine thinker I might add. That would be an incredibly illuminating experience for all of us to do at least once. Very educational, I'll bet.

Thanks for a great suggestion.

Father Grigori
09 Oct 2016 9:52 a.m. PST

I should add, long runs of high or low PIP scores for generals should be taken into account for DBMM gamers.

Father Grigori
09 Oct 2016 4:30 p.m. PST

@Warhorse: Thanks for the thumbs up. I'm sure anyone who has fought a DBA campaign has had, after a few battles, armies which diverge somewhat in composition from the 'official'. My suggestion is merely taking that suggestion to the next level.

vtsaogames
12 Oct 2016 8:43 a.m. PST

Not into DBMM, but this has me thinking about a campaign. All generals start as average and are eligible for positive or negative modifiers based on their performance. That way you don't know if you've got a Grant or a Pope until they show you.

Even better, start them off in rank hierarchy and hope the top guy isn't a dud.

Hmm, perhaps some way to show the Peter Principle. When an officer gets promoted to the next level (division corps army) he may be above his competency level. Think Hood, great division CO, so-so corps CO and unfortunate choice for army CO.

Father Grigori
13 Oct 2016 2:21 a.m. PST

That's a good point. If they rate generals at all, rules generally give one classification – Brilliant, Poor, Bold, or whatever – no matter what level or type of troops they are commanding. A good British example might be Buller; a good, aggressive light cavalry officer in the Zulu War, but an overly cautious commander in the Boer War. (Age might also have something to do with it.)