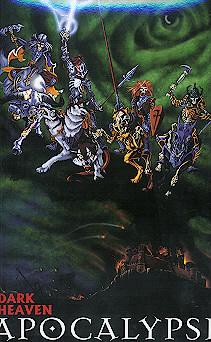 Rating:
(8.00)
Total Votes: 1
Description
Fast-playing fantasy army ruleset, intended to allow 200-500-figure battles to be fought to complete conclusion in 3-5 hours. Armies are built using a point system, and can be based on the world background of Avalorr, or can be Open armies. Army lists indicate the balance between infantry and cavalry. Units are constructed by taking a basic race (human, elf, dwarf, halfing, centaur, gargoyle, bathalian, orc, black orc, lizard men, rat men, vampiric races, undead, and dire-dead), then buying options such as a special weapon class or additional training. Heroes, leaders, wizards, and monsters also take part.
Units are divided into Classes (based chiefly on armor type). At the start of the turn, both players roll for initiative (modified by the presence of leaders). The winner of initiative then begins to move his units. The player with initiative takes actions with all of his Class 1 units, followed by his opponent taking actions with his Class 1 units; they continue the turn by alternating actions with Classes 2, 3 and 4. An Action consists of an attack (melee, ranged, or magical), a move, or a rally attempt; in many cases, a unit can combine movement with an attack in the same action.
The combat system is based on each player rolling a 10-sided die, and adding modifiers due to the figure's stats and situation - the highest modified result wins. Multiple attackers can target the same defender in close combat, adding support modifiers to a single attack dieroll. Combat is resolved with a single dieroll. In most cases, the loser is eliminated; in the case of most victorious Heroes and Monsters, multiple figures are eliminated. The rules also cover thieves and rangers, artillery, morale, chariots, fanatics, elephants, unit bonuses, and a magic system with nearly 30 spells.
Over half the rulebook consists of army construction material - army lists, sample characters, and sample troop types. The army lists provide a guideline for creating an army, but allow freedom to create new troop types.