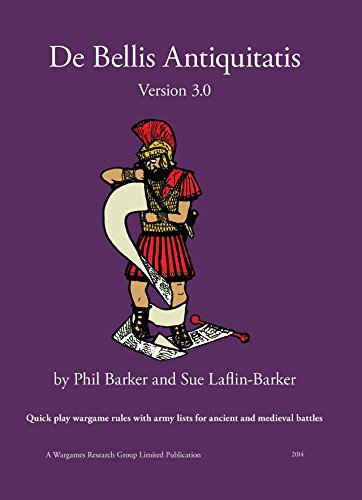 Quick play wargame rules with army lists for ancient and medieval battles
Rating:
(7.10)
Total Votes: 80
Editions
Richard Bodley Scott was credited as a designer on earlier versions.
First edition is available here (23-page PDF).
Supplements
These campaign rules are based on the Mighty Empires Game produced by Games Workshop and the DBA Campaign system.
‐ Mighty DBX Empires
Unofficial expansion. 22-page PDF
Unofficial variant by Tony Barr.
Steve Burt's variant rules are archived online.
A variant of the simple DBA rules for use in playing games of the American Revolution.
– designer's listing
For many years I've been keen to wargame within the New World. Aztecs and Conquistadorestook my fancy, as did Tupi and Portuguese Bandeira when I discovered them later on. Standard DBA is a poor simulation for this period of warfare but has the advantage of being quick and fun so I wrote my own variant, "New World DBA".
– website intro
D3H2
Combines DBA 3.0 with elements of HotT 2.0. It allows you to play both fantasy and historical armies using the same DBA 3.0 mechanisms. Available from Thomas Thomas.