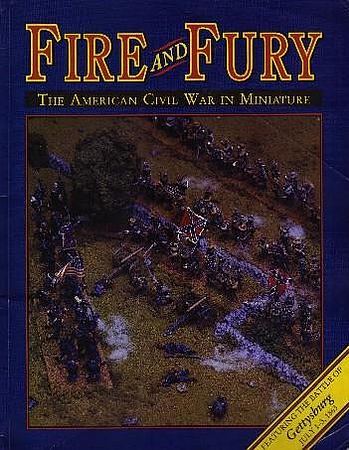 The American Civil War in Miniature
Rating:
(8.33)
Total Votes: 24
Description
Fire and Fury is a grand tactical scale game that uses brigades as the maneuver elements, allowing the larger battles of the American Civil War (ACW) to be fought. Battles such as Gettysburg, Manassas and Antietam are easily recreated completely with this set of rules. It is not for those gamers that want to dabble in the details of regimental-level ACW wargaming, but is suited for those that would rather recreate the larger battles of the war.
The rulebook is a beautiful full-size booklet with many color photographs, and it is filled with detailed diagrams and charts for clarity. It includes a very informative section on painting miniatures and building tabletop terrain that makes the rules worth buying for beginner or intermediate wargamers even if they are not into the ACW.
Fire and Fury emphasizes tabletop beauty by marking the status of units (disorganization, out of ammunition, wrecked batteries, etc.) with markers made from miniatures, instead of casualty caps or cardboard chits like other wargames.
Game Turn Sequence
Each side alternates taking turns, first Union then Confederate. The turn's sequence of play is identical for each side, consisting of three phases:
Maneuver Phase – Each of the moving side's units is diced for prior to movement. F&F combines the morale with the movement of each unit. Units that are disordered or have suffered significant casualties will suffer, or recover from, loss of cohesion in this phase. Penalties range from limited movement to complete unit dispersal. Each unit may move in turn after their movement roll.
Musketry and Cannonade Phase – All units which can fire may do so. Non moving troops fire first, then moving troops in two separate sub-phases.
Charge (Combat) Phase – Combat is resolved with a simple system of combat modifiers that are applied to each sides units die rolls. Combat results are applied immediately. Play then switches to the non-moving players phase.
Supplements
The Great Western Battles Scenario Book
The Great Eastern Battles Scenario Book