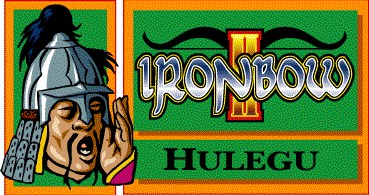 Playtester's Edition
Editions
Currently on version II.
Supplements
Alexius 1113 A.D. - Rules for an IronBow Campaign
This campaign is based on events decribed in Book 14 of the Alexiad, the biographical history of the reign of Byzantine Emperor Alexius I Comnenus, written by his daughter Anna Comnenus. In it she describes one of the periodic Invasion/Raids conducted by the Seljuks of Rum (in Asia Minor), under Sultan Malik-Shah, one of the heirs of Kilij Arslan I. Turcoman raiders and the antics of minor Emirs were a constant problem for the Emperor, but this particular outburst, which is mentioned as being approximately 50,000 warriors in size (possibly exaggerated) and included forces from as far as Mesopotamia, was seemingly one of the major crises faced by Alexius. The Turks headed for the Aegean coast, which had suffered decades of brigandage at the hands of Emirs like Tzachas, and had only now recovered some of its prosperity under the Emperor's watchful eyes. The Byzantine response, somewhat delayed by a Frankish sea-invasion, was to shadow the Turcoman raiding parties (they had separated to cover more territory), picking off who they could, until the main army, under Alexius' command, could be brought into play. Can Malik-Shah find enough slaves or booty to satisfy his turbulent Turcomen, or establish a new Emirate for a loyal vassal? Can the gout-stricken Emperor yet again protect his exposed and endangered realm, and free those of his subjects already in the clutches of the Turk?
– Alexius introduction
Campaign system. 10-page DOC
Battlefinder! Western Europe - 1000 A.D.-1700 A.D.
Battlefinder should be looked on more as a play aid or component than a complete campaign game. It is in essence a modular campaign board that can be used in thousands of configurations. You can use this in conjunction with our miniature rulesets (Strongbow, SF: Actions and SF: Battle) or with any other set you might own…
– Battlefinder! introduction
21-page DOC
In the Shadow of Byzantium
Campaign game. 17-page DOC
Princes of the East
Princes of the East is a political/military game of the period immediately after the first crusade. Each nation strives for supremacy. Only the strongest, most cunning, will leave a legacy of stabilty and survival for his people.
– Princes of the East introduction
Campaign game. Multiple HTM/HTML files.
StrongBow - Warfare in the Feudal West: 1050-1300 A.D.
This present supplement covers the armies of the British Isles and France from around 1050 to 1300 A.D. Political borders of course only show up on maps, but in a sense much of the political and military activities of these regions were isolated from those of neighboring regions.
– StrongBow page 5
13-page PDF
Villehardouin - A Spare Change Game or A Sharp Sword, a Bold Steed, and a $1.40 in Change
Campaign game of the Byzantine-Achaean War of 1262-64. 16-page DOC