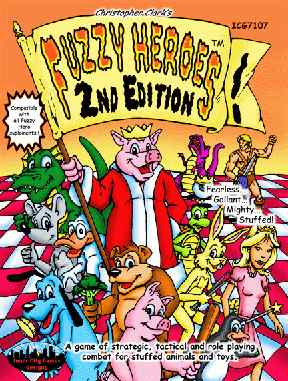 A game of strategic, tactical and role playing combat for stuffed animals and toys
Rating:
(7.00)
Total Votes: 2
Editions
First edition is an 80-page rules booklet. Still in print.
Second edition (2010) adds new characters, new rules, and covers "virtually any toy we could find in a wide variety of toy boxes." Includes ready-to-play adventures. Available in print and PDF editions.
Supplements
Fuzzy Sooper Heroes
This supplement adds a new class of Fuzzy Hero, the Fuzzy Sooper Hero. The 80-page booklet includes 24 new powers, plus a code of conduct (Chivalry) which all Sooper Heroes must follow. The Three Rules of Chivalry in a nutshell are 1) don't retreat unless you have to, 2) fight the meanest bad guy first, and 3) try to make friends if you can. Also included is a new scenario, "The Assault on Castle Stuffmore."
Under the Covers
This supplement adds another new class of Fuzzy Hero, the Fuzzy Secret Agent. This 80-page booklet includes such Top Secret Ability Stuff as sabotage, espionage, and double agents. The Top Secret Gadget Stuff section includes rules for more than 50 new items of equipment. Also included is a new scenario, "Brenda's Being Grounded!"
The Lost Toys
Supplement introducing zombies and vampires to the game system. Includes Fluffy the Vampire Sprayer scenario.