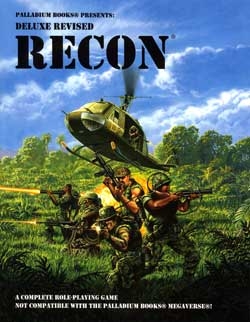 A Complete Role-Playing Game - Not Compatible with the Palladium Books Megaverse!
Rating:
(6.50)
Total Votes: 2
Editions
First edition was a "Bare bones" role-playing system focusing on man-to-man scale combat (Vietnam War, Special Forces) using miniature figures. Ground scale variable, but suggests 1" = 6 feet as default. Five second combat rounds. Each figure represents a single combatant. Intended for use with 20mm, 25mm, or 1:35 scale figures and models. The game presented a wide variety of background information in summary format. The basic game was intended to be supported with more detailed supplements, some of which were eventually released. Contained tables for random encounters and events. 42-page digest-sized rulebook, with fold-out page containing character sheet and "play-aids" (three rulers, scale PBR diagram, scatter diagram). Written by Joe F. Martin. Published by Role Playing Games Inc.
Role Playing Games Inc. published a second edition in 1983. It included a "Mission Director's Screen."
The earlier rules formed an appendix to Revised Recon (third edition, 1986), which was now a combat-oriented role-playing game published by Palladium. The focus of the book was on the Vietnam War, though general information about counter-insurgency and mercenary warfare was included. In order not to offend anyone, the Vietnam-era scenarios were set in a fictional land divided between Southern 'Nam and Peoples 'Nam. The roleplaying rules put the players on the "good guys" side, fighting the "bad guys" (communists, generally). Book included illustrated weapons guide, army organization information, two campaigns ('Nam and Sangria, both fictional), and 16 scenarios (mostly 'Nam). 150-page perfect-bound rulebook. Written by Erick Wujcik, Kevin Siembieda, Matthew Balent, Maryann Siembieda, Joe F. Martin
Current version is the Deluxe Revised Recon.
Supplements
1st Edition Supplements
Sayaret & Track Commander: Recon Supplement One
This 52-page digest-sized expansion adds background information for scenarios set during the Arab-Israeli Wars. Sayaret covers Israeli recon units. Track Commander covers rules for role-playing a tank crew. Also included are rules for passenger vehicle driving and combat called Roadkill. 1983.
The Haiphong HALO: Recon Module 1
Four tabloid-style sheets containing a scenario to rescue American POWs. Includes 25mm plans for tramp steamer. 1983.
Hearts and Minds: Recon Module 2
A 43-page digest-sized expansion with detailed campaign covering special forces patrols from a Montagnard village. Includes several contact and event tables. 1983
San Succi: Recon Play Aid 1
Large envelope containing seven tabloid style sheets with 41 floorplans for 20mm or 25mm figures based on the 16 city-block map of San Succi. Includes some supplemental rules and charts. 1982.
Revised Recon Supplements
Advanced Recon
48-page book of supplemental rules and adventures. The focus is on allowing counter-insurgency campaigns which are less focused on combat engagements. New character creation rules make characters "last longer" in combat. An electronics section covers such items as night sights and radios. A primer on combat tactics is included. Background is provided for Southeast Asia circa 1965, with guidelines and random encounter tables for a fictional Laotian campaign. Published 1987.
The adventures are:
Project Boot-Strap, an agricultural mission
The Opium War, in which the players get caught in a free-for-all clash between multiple armies seeking control of a drug region
Radio Wars, involving the players in a struggle against a propaganda radio broadcast
The Spider's Web, in which players must fight a corrupt superior