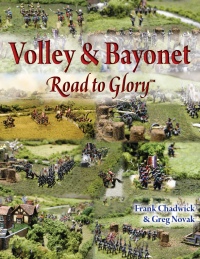 Road to Glory
Rating:
(7.44)
Total Votes: 18
Description
This rulebook is a beautiful glossy 90 page full size booklet. It is broken down into two main sections: Basic Rules & Scenarios. Designers notes, a question-and-answer section, and some quick reference pages are also included.
The Game Turn Sequence
Each side alternates taking turns. The turn's sequence of play is identical for each side, consisting of five phases:
Command Determination Phase – Players check to see which units are within the command control radius of their commander(s). Units out of command are marked as such and suffer movement and morale penalties in following phases.
Maneuver Phase – Players move units, including those closing to combat contact. Units are allowed one free facing change after which they may only move straight or obliquely. An additional facing change can be made by forfeiting half the unit's movement. Units may freely interpenetrate.
Rally Phase – Units with attached leaders may rally from rout.
Morale Phase – Units in combat contact check morale.
Combat Phase – Units in combat contact or artillery and skirmishers in range conduct melee combat and fire combat.
Editions
First edition published by GDW.
Current version is second edition.