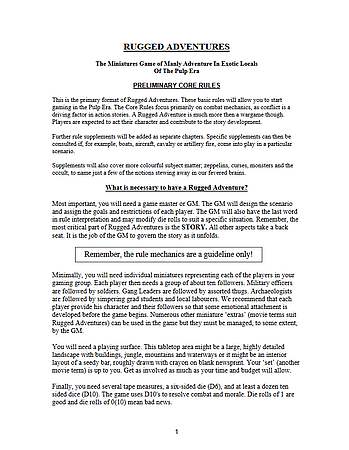 The Miniatures Game of Manly Adventure In Exotic Locals Of The Pulp Era
Supplements
2-page PDF.
Pre-designed characters and blank form. 26-page PDF.
The pulps were brimming with gizmos and gadgets. Some devices were designed to aid the hero and facilitate their daring escapes or otherwise thwart the evil villainís plan. Other devices were inventions by the villains themselves – usually something pretty nasty that no self respecting hero would ever dream of using themselves. This list is a compilation of gizmos and devices we believe are typical of the genre. It is by no means complete but we hope these examples can guide Rugged Adventures scenario designers to invent their own fantastic gizmos for use by and against the forces of evil. Keep in mind also that these are only suggestions and the GM should modify the equipment to suit the plot-line of the game.
– Pulp Tools of the Trade introduction
12-page PDF.
Rocket Corp rules. 7-page PDF.