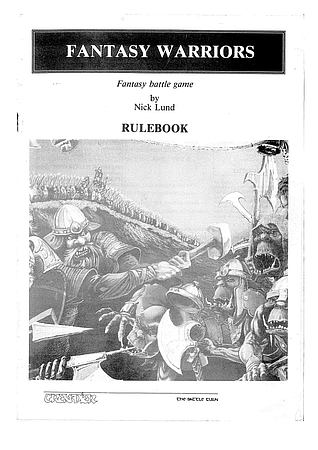 Rating:
(8.66)
Total Votes: 6
Editions
Original boxed edition published by Grenadier Miniatures U.K. contained 102 plastic miniatures, rulebook, counters, and six metal miniatures (two warchiefs, standard bearers, and individuals).
Second edition published by Stratelibri.
The rules are now available as a free download from Mirliton.
Also available here.
Supplements
Fantasy Warriors Companion
Adds Necromancers and mercenaries, new army lists, multi-player rules, and rules updates. 80-page PDF.
Fantasy Warriors Campaign
Campaign rules, plus new rules for retreats and unit orders. 24-page PDF.
Rules Update
Covers Halflings, Barbarian Giants, and specific figures. 4-page PDF.
Warriors Rules Update
Apparently a collation of rules updates previously published in the official newsletter. 4-page PDF.
Fantasy Warriors Army Lists
AKA Special Rules. Updated army lists and rules from the Torino, Italy, fans group.
Fantasy Warrior Application
Fantasy Warrior application lets you create armies in a hierarchical view as the Fantasy Warrior army hierarchy. This application calculates all budgets for you and records all your army properties in a database. This first version has only 10 races and I hope to grow it in the near future.
– Samuel Cantin
Individual army lists can also be downloaded from the publisher's website.