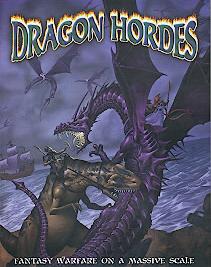 Description
A fantasy battle system which exclusively focuses on "...the interesting stuff - big giant, snarling beasts and huge, mean, nasty war machines." Boring, mundane troops simply don't exist. There is a Basic Game which deals with dragons and aerial combat, and the Standard Game which adds the full battle rules.
The setting is the world of Eorthe, where six major factions (humans with dragons, more humans on dinosaurs, "elves" on bugs, "dwarves" with high tech, chaos, and pirates) are battling for control of a mystical resource called eortheblood. Army lists allow players to build forces using points, choosing among a half dozen or so unit types. All troops are classified as either hordes (come in groups) or loners (come as individuals). Spellcasters can be bought in four grades of spell mastery. Unit cards are provided, listing all the powers of any given unit.
At the start of the turn, markers representing all units of both players are drawn to determine the order in which the units will take their sub-turns. Each sub-turn consists of three phases: rally, move, and attack. Hordes must maintain cohesion. Troops are rated for maneuverability - highly maneuverable combatants can turn on a dime, but units with medium to low maneuverability have a mandatory turn radius. Flyers can be at one of three levels of altitude; Tunnelers have the ability to go underground; Floaters can move at sea; and Swimmers can move underwater.
Combat covers ranged and close fighting. In addition to standard ranged weapons, some units can drop weapons on enemies directly below them; other can launch weapons at enemies directly above them. Throwers fire their projectiles along an arching trajectory. Area affect weapons are targeted against a particular location, and affect all units within a particular radius; there is a chance that area affect weapons will deviate if poorly fired. Members of the same horde can make coordinated melee attacks. Attacks are resolved with an Attack Roll, modified due to range, movement of firer, and altitude (ranged attacks); or for charging, attacking from the rear, and morale state of the defender (melee combat). If a hit is scored, the defender makes an Armor Roll to avoid receiving wounds. Troops in a horde die if wounded, but loners can withstand multiple wounds.
A morale test is required of each wounded loner, or a horde which loses a member. Units may become Nervous or Scared, and are removed from play if they rout.
Spellcasters can use spells as a form of attack. Each spellcaster may attempt to cast any of the seventeen available spells, but some spells are more difficult than others. On a particularly bad dieroll, a spellcaster can explode.
Campaign rules allow the loners in an army to gain (or lose) campaign points from battle, which can be "cashed in" for various rewards.