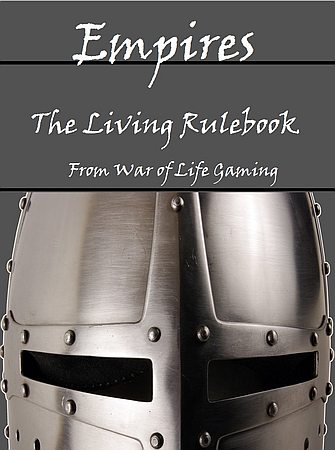 The Living Rulebook
Editions
This is the diceless edition.
Supplements
Empires: Allies
This supplement contains the rules for the use of allies in the Empires series (D6, Colossus, D10, D20 and Diceless) including: Allying with another player; Using multiple fantasy races in one army; Ally chart for the Fantasy Realm. The Empires Rulebook and Fantasy Expansion are required for the use of this ruleset.
– catalog listing
The Empires Series: Where Do I Start?
Empires: Campaign Scenarios
Empires: Fantasy Campaign Scenarios
Empires: The Dwarven Forces BETA Sample
Feudal Japan Army Expansion BETA
Empires: The Hydra
Empires: Night Elf Assassin
Empires: Mission Cards
Empires: The Battle of Cannae
Empires: The Battle of Marathon
Empires: Celtic Forces Diceless Edition
Empires: The Dwarven Forces Diceless Edition
Empires: The Elven Forces Diceless Edition
Empires: The Kingdom of Man Diceless Edition
Empires: Roman Forces Diceless Edition
Empires: The Undead Army Diceless Edition
Empires: Diceless Edition Fantasy Rules Beasts, Wizards, Magic and Spells
Empires: Byzantine Cataphract Lancers
Empires: Daemon
Empires Fantasy: Bestiary