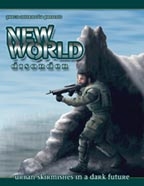 Rating:
(2.00)
Total Votes: 1
Supplements
New World Disorder: CyberZone
Enter the CyberZone, a prison for the hordes of illegally-mechanized citizens that once plagued the outside world. These freaks are even more deadly than the crews that battle it out for control in Angel City. The residents of the CyberZone take advantage of the power that their cybernetics provide—from stronger limbs and better vision to mounted weapons and subdermal armor. Embrace the metal!
– catalog listing
13-page PDF (Wargame Downloads)
New World Disorder: Zombie Apocalypse!
ZOMBIE APOCALYPSE! adds bloodthirsty zombies to your New World Disorder games. Pit swarms of zombies against existing crews, but pay heed--your fallen comrades will rise and turn on you when least expected. Even Loot cars and other areas for lost and hidden gear.
– catalog listing
7-page PDF (Wargame Downloads)