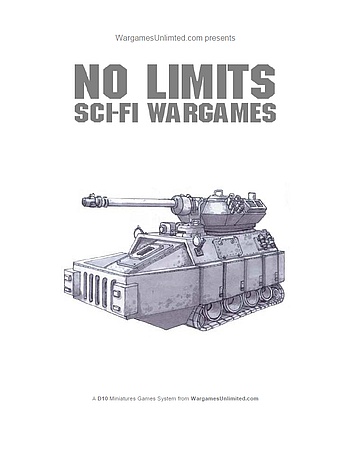 Sci-Fi Wargames
Editions
Previously published by Wargames Unlimited. Latest version is 1.3. Also available in French.
Supplements
No Limits Accessories
This accessories zip file contains quick reference guides, counters, spreadsheets to calculate model profiles and Word templates to create your own army lists.
– designer's website
No Limits Army Lists
Provided here is a selection of army lists in various formats, including UNA, Karman, Therian, Red Blok, Galactic Marines, Space Elves, Grymn, Zykhee, Chaos, Spugs and others.
– designer's website
Road Warriors
These rules introduce small gangs and their continuing struggle to control their turf and see off rival gangs. Road Warriors uses the No Limits core rules but expands certain areas providing a more detailed skirmish level environment. Campaign rules are included to allow a gang to evolve from game to game.
– designer's website
27-page PDF
No Limits: Boarding Action!
In the far flung future the economy of many worlds thrives upon interstellar trade. From the massive mega-corporation and imperial freighters to the small independent tramp freighters, these crews keep the commerce of the galaxy on the move. These rules attempt to provide some special rules for ship crews and some of the adversaries they may encounter in the space lanes.
– designer's website
19-page PDF
Interactive Record Sheets
These interactive pdf files allow army lists to be created and printed.
– designer's website