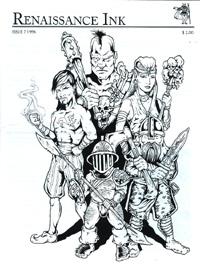 ---
| | |
| --- | --- |
| Brief Description | Newsletter and house organ for Renaissance Ink, plus industry news and painting tips. |
| Focus | The entire field of miniature wargaming |
| Size | 10-page newsletter |
| Frequency | Monthly |
| Subscriptions | US$2 per issue, US$24 per year (discount rates sometimes available) |
| Editor | Jay Wirth (JWIRTH4702@aol.com) |
| Publisher | Renaissance Ink |
---
First of all, Renaissance Ink's Industry News column (and literally, it is about a column in size) is where to go to get the scoop on the game industry. Whether it's layoffs, a new web page, or the Games Workshop distribution wars, this newsletter has a paragraph on it.
The other reason to read this newsletter is for the painting tips (the publisher, Renaissance Ink, also provides a painting service). A page or two in each issue covers some area of painting, such as how to use inks, or explaining the layering method.
What else is in the newsletter? Usually, something to do with the latest products from the company. In recent issues, for instance, they've published some brief fiction (as short as 1 page) based on their new fantasy rules.
There's also a little convention information, occasional reviews of products from other companies, and advertisements from small companies or game clubs. About 2 pages per issue are taken up with advertisements or catalog listings from Renaissance Ink, mentioning their rulesets, painting service, or mail-order service for painting supplies.
It's an interesting blend of material.
---
Last Updates
14 June 1997
reorganized
13 September 1996
cover art added
11 September 1996
page first published
Comments or corrections?