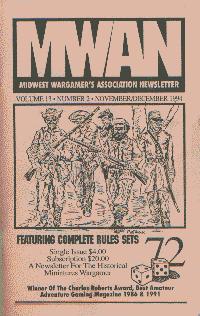 ---
Brief Description
An amateur publication devoted to historical miniatures. Lots of articles, lots of advertisements from companies which most gamers may be unfamiliar with, and new miniatures rules in every issue.
Size
192-page, digest-size newsletter
Frequency
6 times per year
Subscriptions
US$35 per year

In the UK, £22.50 per year, via Caliver Books

Editor
Hal Thinglum
Publisher
Hal Thinglum
---
First of all, there is no prescribed right way to pronounce MWAN. Some say "Em-Wan," some say "Mwahn," and still others spell it out when they say the name. The editor, Hal, has no preference.

Speaking of Hal, subscribing to MWAN is a little bit like adopting an uncle. In every issue, Hal is there to tell us what project he's working on, which figures he's dusted off and finally started to paint, or which battle he finally fought with which old friends who dropped by for a weekend. Reading what Hal is up to gives you that feeling that there are other gamers out there, having a good time.

MWAN describes itself as an "amateur" publication, and rightly so. The articles come in a variety of typefaces and writing styles, some more polished than others. Many of the articles read as though the author just sat down to dash off another letter to Hal. This is not to say that the contents are lightweight -- rather, there is a casual atmosphere about MWAN, sort of a "gamers sharing ideas with other gamers" sort of camaraderie.

And remember -- the Table of Contents is on the last page. (I keep forgetting this, and then I read through the entire magazine until I finally stumble upon the TOC...)
---
New Rules In Every Issue
Yes, MWAN often features one or more "complete rules set" in every issue. Some of these are quality productions (for instance, GDW allowed the newsletter to print a playtest version of their Volley & Bayonet rules (which were later published commercially).

On the other hand, some of the rules systems published have been a bit on the unpolished side. Yet even these could be worked with and improved by interested wargamers.
---
The Articles
My impression is that there is an amazing breadth of information in every issue...but this is not the newsletter where you will often get a 20-page essay on some general's tactical errors at Gettysburg. Instead, you'll get a lot of short pieces -- suggested new rules for established games, a review of a new figure line (with sketches of the different figures in the line), a battle report of a recent game (sometimes with maps and organizations, so that you can run the scenario yourself), or an "enthusiasm piece" from someone hoping to get you interested in his favorite historical era.

Most issues also include an article from a designer of a recent commercial set of rules, describing how he created his rules system.

Are all historical periods equally well represented? Well, I've seen articles about Vikings and Samurai, Tiger tanks and (from the Russian Civil War) armored trains. Napoleonics seems to be the most popular period, but it certainly doesn't drown out the other material.
---
The Regular Features
These are the regular features in each issue:
| | |
| --- | --- |
| J.P. Kelly's Tac-Air | A column (about 4 pages) dedicated to the aerial miniaturist in all eras (WWI to modern) and scales (1/72 to 1/256). He mentions new products, provides overviews of what's available (for instance, he recently listed all figures and kits available in all gaming scales for the Hawker Hurricane), and interesting techniques (for instance, making stands for 1/144-scale aircraft). |
| Skulking in Ye Rear | Howard Whitehouse's column, in which he discusses whatever he's been up to lately |
| David Bonk's Fanion | Another what-I've-been-up-to-lately column, often with notes about events planned for future conventions |
| A Letters to the Editor section | Very extensive |
| Wargaming Magazine Review | Ratings and descriptions of the latest issues of several wargaming publications |
| Wargame Clubs of America | Listings of clubs, and club news from known clubs |
| What's New in Hal's Mailbox | New product descriptions |
| Sutler's Wagon | Readers' ads |
| Upcoming Events | Convention listings |
---
The Advertisements
With wargaming magazines, half the fun is seeing the advertisements from all of the companies, and here MWAN does not disappoint. One recent issue had almost 60 pages with ads (that includes any page with an ad, no matter how small), including companies both domestic and foreign.
---
Update
August '96: MWAN nearly went belly up, but instead raised its subscription rates and is now on slicker paper than before. However, the content is probably about the same as when we first wrote this article.
---
Last Updates
20 June 1997
UK subscription information added
14 June 1997
reorganized
28 August 1996
reorganized
25 August 1996
new subscription price
24 April 1996
reformatted
Comments or corrections?