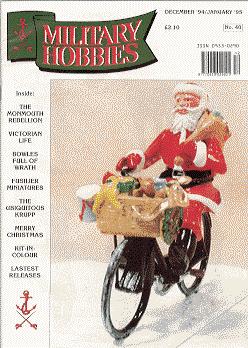 ---
---
Description
When I think of Military Hobbies, I think of toy soldiers. I know the magazine covers other things as well, but the passion that dominates and permeates these pages is for the large-scale, colorful, glossy-coated figures in the style which our grandfathers remember.

If you thought that toy soldiers were only found in musty chests and attics, then a glance through one issue of this magazine would set you straight -- there is an abundance of new figures being produced by a score of companies. One recent issue devoted more than a third of its pages just to coverage of new releases, almost always with a photo of the products (and, often, color photographs!). Many issues also contain a brief profile of a manufacturer or sculptor.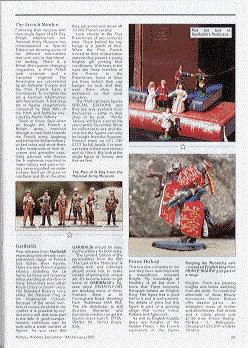 As the editors at Military Hobbies explain, there is an interesting divergence in toy soldiery right now. While one side of this industry continues to make figures in the traditional style, other companies are bringing the sculpting standards of large-scale, white-metal figures (sharper detail, anatomically correct figures) to their toy soldiers.

There are no Orders of Battle or ready-to-play scenarios in this magazine, as most purchasers of toy soldiers would rather collect their figures than play with them. Instead, the editors concentrate on making their readers aware of the selection of figures available.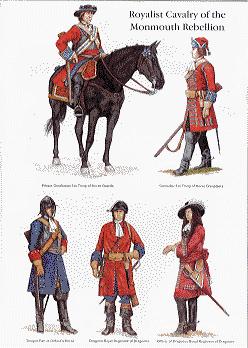 Military Hobbies also runs articles about military uniforms. The color illustrations can be seen in the example above -- Royalist Cavalry, Monmouth Rebellion, 1685.

The magazine also includes reviews of selected 1/48-scale plastic military kits (usually about 10% of the magazine's content), as well as occasional items of news concerning toy-soldier-scale plastic soldiers. A one-page book-review column discusses books of interest to the toy soldier collector.

I've found the magazine to be a fun read, and heartily recommend Military Hobbies to anyone interested in collecting (or who want to learn more about collecting) toy soldiers. The breadth and depth of the coverage is amazing, from Carabiniers at Waterloo to commemorative D-day figures, from a German WWI field gun to a British soldier comforting a grieving Bosnian widow.
---