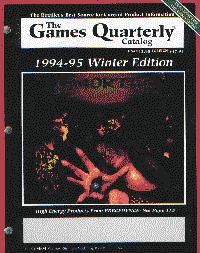 ---
---
Description
Well, it's your basic BIG CATALOG. According to the publisher:
We endeavor to list all known products which the manufacturer states are currently in print and which are available to ship at distributor discounts. What this means is that all products listed could be available from any distributor who chooses to stock them. We believe this policy to be best for general retailers' use, and it's the retailers who are our main target audience.
So this is basically a reference work for stores, not for the average Joe Gamer. But it is still fun to read through (if you find it too pricey, perhaps you can beg last quarter's copy off your local store owner).

There are two Tables of Contents (one by manufacturer in alphabetical order, and one by product category). Each manufacturer has its own section (some have several pages, some have only part of a page). For each product, the following information is provided:
The manufacturer's code number for that item
The name of the item
The suggested retail price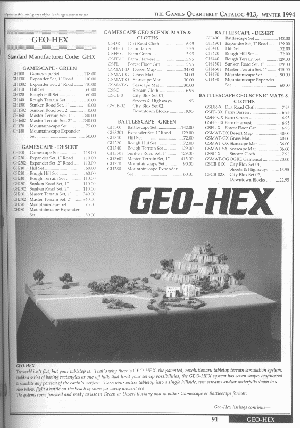 Generally, no description is provided of individual items. However, manufacturers have the option of buying space to promote their products -- usually, the larger manufacturers list a half dozen of their newest items, with cover photos and a short descriptive blurb.

A few of the companies pay in order to provide a second listing at the rear of the Catalog, in the advertising section. They do this in order to list items which don't meet the publisher's requirements for a normal listing -- for instance, items available only through mail order.

Some manufacturers go so far as to purchase full-page color advertisements, which are found at the front and back of the catalog. These ads, unlike the normal listings, may promote products not yet ready to ship.

At the rear of the Catalog, the Recently Out Of Production section lists game products no longer available from the manufacturers. (Such items will probably remain available from the distributors for a short time, so long as stocks last.) In this issue, for example, the Tactica medieval rulebook is listed as out of production, as are the Eldar Warp Spiders from Citadel Miniatures.

Also at the back of the Catalog is the Manufacturers' Listing. A phone number and contact person are listed for many of the companies featured in the Catalog. Mailing addresses are not given.

The latest issue includes product listings from 35 miniatures companies.
---