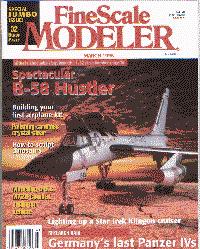 ---
Brief Description
This magazine is concerned with the construction of model kits (usually plastic, sometimes resin or other materials). Includes news of new products, mini-reviews of selected kits, painting guides, background information, and construction techniques articles.
Focus
Plastic model kits
Size
92 pages, evenly split between color and black-and-white. Subscribers' copies are wrapped in plastic.
Frequency
9 times per year
Subscriptions
| | |
| --- | --- |
| United States | $26.95 (9 issues), $50.95 (18 issues), $71.95 (27 issues). |
| Outside the United States | $38.00 (9 issues), $76.00 (18 issues), $114.00 (27 issues), payable in U.S. funds only |
Editor
Bob Hayden (BobHFSM@aol.com). Readers can also leave voicemail for the editor at the FSM Comment Line -- (414) 798-6548.
Publisher
Kalmbach Publishing Company
---
Description
Sometimes, the boundaries blur. Does a magazine called FineScale Modeler cover miniatures? Sort of...
They have in the past run articles about the painting of 25mm figures, and building dioramas around 1/285-scale military vehicles.
Some miniatures wargamers play in the larger scales, and use plastic kits as their basic figures (i.e. 1:144 or 1:72 aerial wargaming, 1:72 or 1:76 WWII and modern wargaming, and 1:700 naval wargaming).
The new products featured are often of use to miniature wargamers as well as to modelers, especially the terrain items.
A painting or background article is usually applicable to several scales.
Therefore, while I wouldn't characterize FineScale Modeler as a miniatures magazine, it does on rare instances cover miniatures, and there is usually something in every issue which a miniature wargamer would find of use.

For instance, each issue includes a list of new products released that month -- vital info for anyone gaming in the larger scales. For instance, looking in the most recent issue, I can tell you that --
U.S. Casts has just come out with a dozen new WWII products in 1/76 scale, including an M4A1 Sherman with 75mm gun.
Aviation Usk has a Nakajima Dave (WWII, Japanese) in 1/72 scale.
C.B. von Krauthauser has 20 new landknechts (ca. 1525) and 14 Sioux Indians, all in 54mm scale.
Thirty-six new military colors have just been added to the Floquil Classic Colors line of enamel paints.
A new catalog of 1:87 scale vehicles is available from Paul Heiser's Models.
The First Warplanes is a new quarterly publication about WWI aircraft.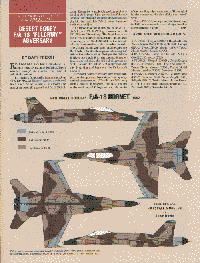 Another regular feature in the magazine is the International Color and Camouflage column, which typically details one paint scheme for a military vehicle or aircraft.

Other columns include Book Briefs (listings of new reference books), Reader Gallery (photos of models, sent in by readers), Clinic (where readers ask modeling questions), and Tips and Techniques (short ideas sent in by readers on how better to construct kits).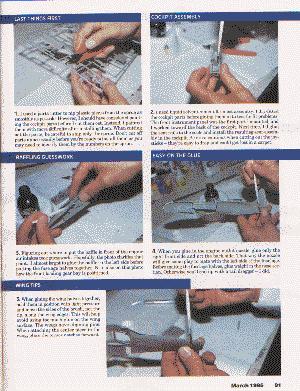 The feature articles primarily concern themselves with basic construction techniques, advanced detailing techniques, the painting of models, and the construction of displays or dioramas. Although most articles focus on the larger scales (1:35 scale tanks and 1:48 scale aircraft), the information is often useful for those of us working in the smaller ranges.

If you deal with plastic kits on your wargaming tabletop, you might consider FineScale Modeler to be a useful resource. I find something of use in every issue...
---
Last Updates
14 June 1997
reorganized
28 August 1996
reorganized
24 April 1996
reformatted
7 March 1995
new email address for Bob Hayden
Comments or corrections?