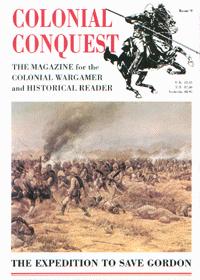 ---
Brief Description
Combines historical articles (including reprints from the colonial period) with articles on miniature wargaming.
Size
34 pages, glossy, some color but mostly b/w, heavily illustrated
Frequency
Unstated
Subscriptions
Prices are for five issues

| | |
| --- | --- |
| In the U.K. | £13.50 |
| Europe | £15.00 |
| Rest of the World | £17.50. |

Editor
Ian Knight
Publisher
Partizan Press

These agents handle foreign subscriptions
United States
On Military Matters
55 Taylor Terrace
Hopewell, N.J.
Australia
A. Williams
8 Best Street
Oakleigh, Victoria 3166
France
M. Clamer / 'Remark'
9 Rue Thimonier
75009 Paris
Spain
B.U.M.
Girona 55, 2A
08009, Barcelona
---
The publishers were good enough to send us a sample issue, on the basis of which this article is written.
The issue we received was issue #9, dedicated to the expedition to save Gordon. Virtually the entire magazine is taken up with articles covering the Camel Corps Relief Expedition. Although no attribution is given, the articles appear to be reprints of campaign reports written in the last century.
(Historical summary: General Gordon got himself besieged in Khartoum in the Sudan by the fanatical army of the Mahdi. At great expense, the British Empire at last sent an expedition overland from Egypt to rescue Gordon.)
The specific articles are:
| | |
| --- | --- |
| The Camel Corps Relief Expedition To Save General Gordon, 1884-85 | Six pages detailing the organization and march of the Camel Corps, including an Order of Battle, a large map, and 5 illustrations (clearly showing, among other things, the appearance of the troops). |
| The Battle of Abu Klea, 17th January 1885 | Eight pages about this first battle, including two maps (one in color), illustrations, and an extract from General Stewart's own report. Contains anecdotal material as well as the description of the battle. |
| The Battle of Abu Kru, 19th January 1885 | Four pages, including a sketch map. |
| Contact with Gordon's Steamers | These two pages relate how the victorious Camel Corps met General Gordon's river steamers, only to learn that Khartoum had already fallen. |
| "Here's To You Fuzzy Wuzzy": The Mahdist Ansar in the Sudan | Six pages describing the Mahdist forces, including their organization and uniforms. Includes large color reproduction of a battle painting, plus b/w photos of uniform items. |
| The Sand of the Desert: Wargames Rules for the Sudan Campaigns 1883-1899 | Two pages of miniatures rules, which the designer intends to be "fast moving and playable" yet historically accurate. |
| Redoubt Enterprises: Rourke's Drift | One-page review of this line of figures, including sketches of four miniatures. |
Having read this issue, I feel like I'm more than prepared for bringing the Fuzzy Wuzzies on the tabletop! However, I should note that since the articles concentrate on the military history, that gamers will have to extract the content to make up their scenarios -- that is, maps are not given in terms of inch-measurements on the tabletop, nor are the forces for each battle listed in terms of game stats.
---
Last Updates
16 June 1997
UK subscription prices raised
14 June 1997
Ian Knight new editor
24 April 1996
reformatted
17 April 1995
first published
Comments or corrections?