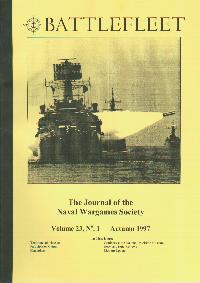 ---
Contents of Latest Issues
Brief Description
The newsletter of naval combat, with primary focus on the 20th Century. Also includes model news and reviews.
Size
32-page newsletter
Frequency
Quarterly
Subscriptions

with Naval Wargames Society membership

U.K and B.F.P.O
£8.00
Overseas
£11.50

plus supplemental newsletter,
All Guns Blazing

U.K and B.F.P.O
£12.00

Others on Application

Editor
David Manley (david_manley@hotmail.com)
Publisher
Naval Wargames Society
---
The Naval Wargames Society was kind enough to send us a sample issue of their publication, and this article is based on that copy of Battlefleet.
---
Many club publications are strictly amateur, but judging from one issue of Battlefleet, I have to say that I'm impressed. The articles are well-written, and wide ranging (much further than the 20th Century focus which the club states as its goal).
Articles from this issue:
Invasion July 1940
An 8-page scenario based on events in the what-if novel, INVASION (about the German invasion of Great Britain in WWII). Rival cruiser squadrons fight it out off the shores of France. Not your run-of-the-mill WWII scenario...
Beyond Hampton Roads
A 6-page "pocket guide" to naval wargaming the American Civil War. Describes the coastal blockade, riverine warfare, some "might have been" possibilities, and lists suppliers of rules, reference books, and models.
Naval Battles of the Russo-Japanese War, Part II
The prize here is an 8-page set of operational rules for the Port Arthur naval campaign, complete with maps (but no Orders of Battle - perhaps included in Part I?). Also in Part II are Orders of Battle for the 10 major battles of the war.
England's Armada
The Expedition to Portugal 1589
A fascinating piece of obscure history - namely, England's missed opportunity following the demise of the Spanish Armada. 4 pages, including maps.
Book Reviews
Nelson's Favorite - HMS Agamemnon at War, 1781-1809
Signals from the Falklands
Shingle Street, Flame, Chemical and Psychological Warfare in 1940, and the Nazi Invasion that never was
The Painter's Guide to WW2 Naval Camouflage
The articles are well done, the authors appear to know what they are talking about, and the issue covers a wide spread of naval wargaming. In this issue, the editor has also brought together a nice blend of scenarios, campaign rules, and historical background.
If naval wargaming interests you, then you'll have to consider subscribing to Battlefleet.
(By the way, a subscription to the magazine is the same as a membership in the Naval Wargaming Society -- and with membership comes a discount from more than a dozen wargaming companies.)
---
Last Updates
26 December 1997
new editor
5 July 1997
link to latest issues
14 June 1997
reorganized
13 May 1997
reorganized
11 March 1997
page first published
Comments or corrections?