Dragon6, thanks bud!
Bill, it played out great. The two teams executed a typical "start from where I sit along the game table" battle plan, but their in-game decisions were very good.
Here's a composite map of each side's scenario map (the two actual maps handed out not showing the original [hidden] positions, nor the arrival time for the enemy's forces). The subtle colored arrows I added to show the advance of the forces, and their final positions when the game was called.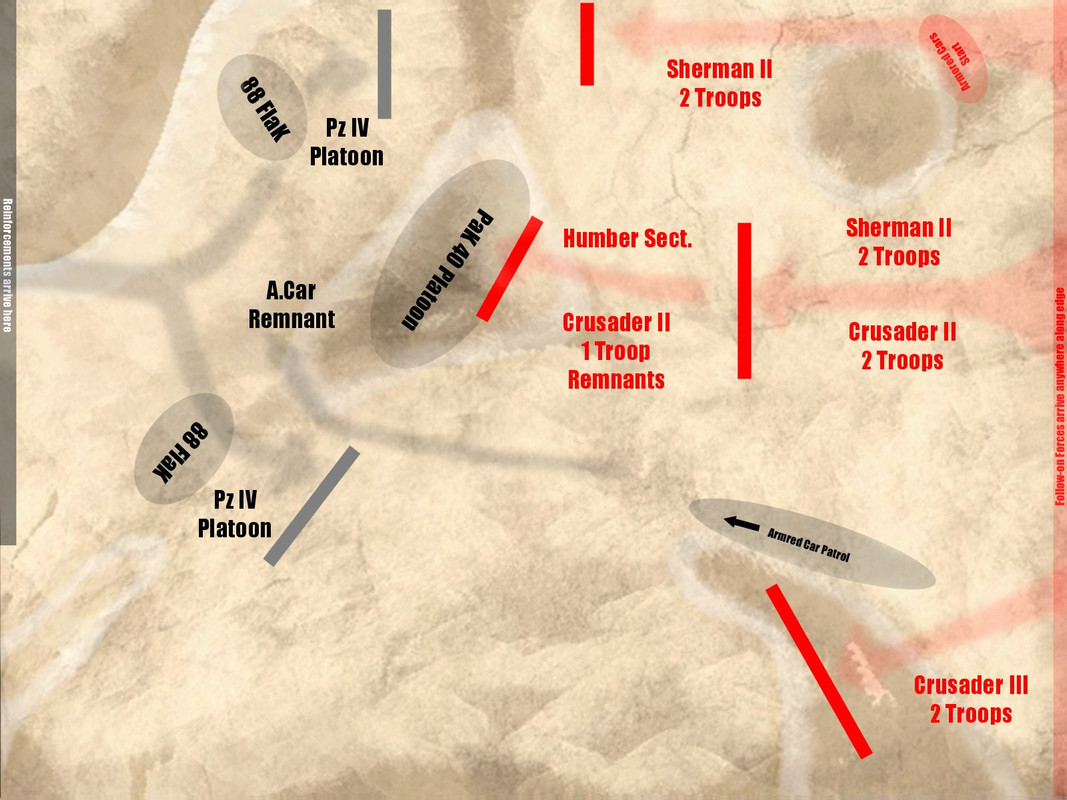 The game began with a German recce patrol returning from having located the main British attack coming in from the east, and an undetected British Humber armored car section about to top a nearby ridge (northern map corner), and so it then set to discover this returning enemy scout column. A few game turns were allotted for this A.Car vs. A.Car encounter to flesh-out, and then the main British body of a squadron each of Shermans and Crusaders arrived to begin the main event, entering the battle area from anywhere along the eastern board edge (right side).
As the British pushed forward, the German AT guns and 88s took some toll, and two platoons of PzKpfw IVs were planned for arrival to add to the final "cauldron", for what would spill out as the ultimate game result. The Crusader IIIs held their own on the southern ridge, fighting from hull-down positions, and in the north the Shermans bested the Mk. IVs they opposed. The center skillfully neutralizing the AT Guns, and pushed forward in coordination with the right wing.
DH, you mentioned liking to see players pictured, and as I linked those first two shots above, I was thinking these are views so typical of what we as players actually see and experience when we play…..arms and elbows everywhere (the gamer's actual "command view"). ;)
The scenario was inspired by the potential for a number of rearguard encounters, as Rommel retreated across Tripolitania towards Tunisia, before reaching the Mareth Line.