Thureophoroi, Thorakitai- yes but there is more evidence for round shields, still similar tactics (1)
or even Phalanx? – probably not pikes (2).
Pergamene artwork shows thureos shields and large/medium round shields, of course we often can't tell who it belonged to, is it Pergamene gear, Galatian, or Seleucid trophies.
Sometimes it is more obvious.
Pergamene with aspis shield with grip:
link
Pergamene with aspis style:
link
1- Thureophoroi and thorakites are (IMO) multi-role troops. They can skirmish or be a spear/shield wall like phalanx. I doubt they did both at the same time, but as with hoplites and ekdromoi,and hypaspists, we know that units had the capability to have some 'swifter' troops do some anti-skirmisher protection.
The issue is with our name convention, the thureophoros is boxed in by being named by his shield, but there is no reason why the same type of troop could not have used hoplite style or bronze faced pelte round shields.
It may have been a Pergamene thing, the images of troops carry round shields on the Pergamene Altar.
My impression is they are positioned and used like the later Roman auxiliaries. Workhorse troops useful in many roles and sieges. We just don't get a clear description of Pergamene infantry in action. My guess is- they were very adaptable.
These seem to be trophies: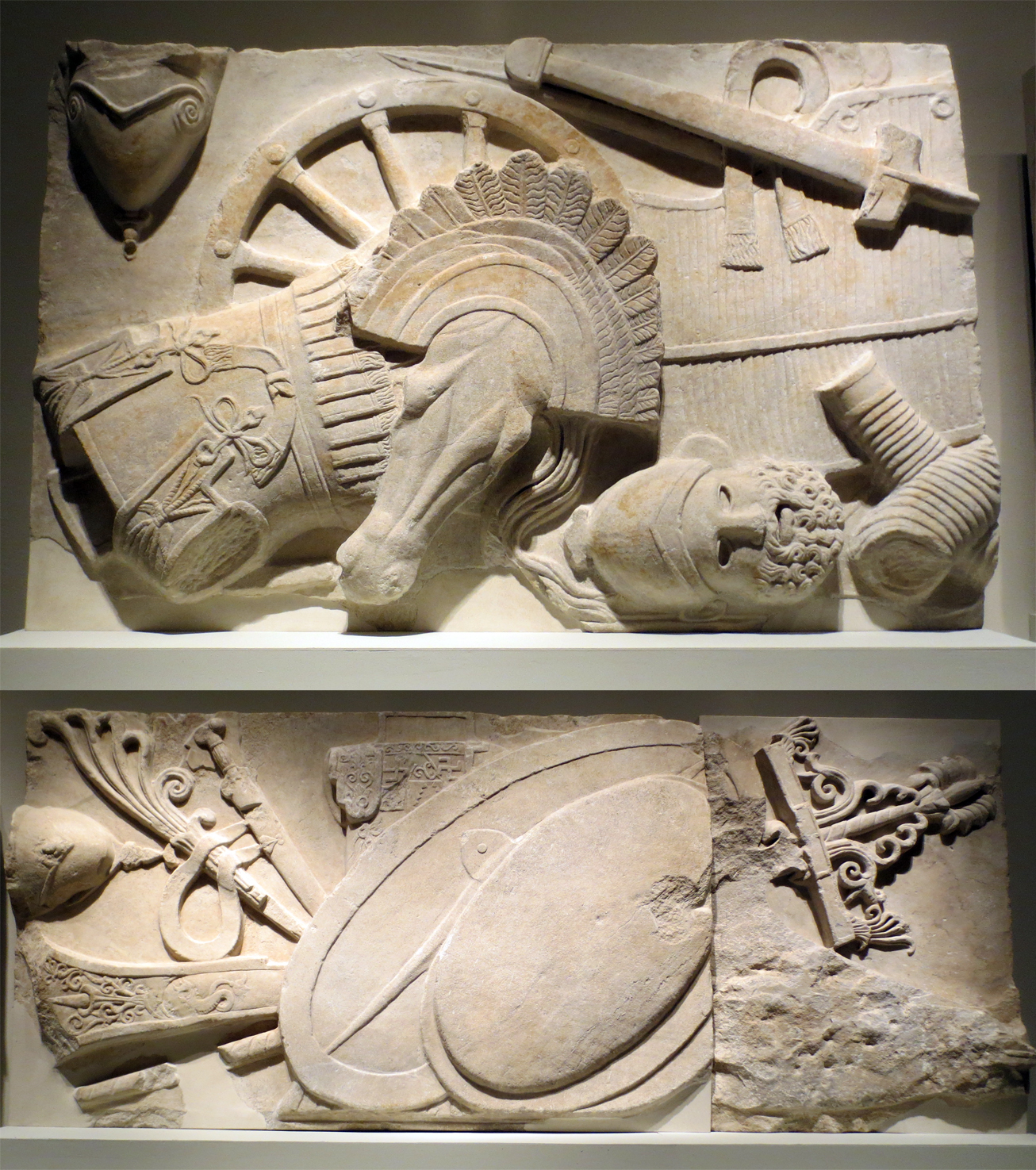 2- The only connection (I know of) to Pergamene phalanxes is the Seleucid deserter phalanx that were in service for a short period long gone by Magnesia.
Achaean hoplite/thureophoroi/peltast/phalangite theory I'm going to pass on (dodging the smackdown) sorry for my abject cowardice.