Cheers guys.
I just got two boxes of these in the mail today, and thought I would share my first impression with you.
If you (like me) are looking for alternatives to the GW marauders, or are just looking for some generic barbarians you should check these out.
So far, the only comments about them I have been able to find on the internet seems to be negative or ,at best, indifferent which I find is a shame.
I have no affiliation with shieldwolf what so ever, and did not even know the company existed until last weekend.
The comments on the internet, and the pictures on the shieldwolf website did not do much to sell these to me(the barbarian hero especially looks dodgy to me). But the price, and the fact that there really isīnt anything similar out there, made me buy two boxes … on a dare, prepared to just use them for parts, as has been the case with some purchases in the past (plastic miniatures that does not match the size of 28mm fantasy).
From previous experiences with Small manufacturers (avatars of war, Defiance games) I also braced myself for a LOOOOONG wait for the miniatures to arrive, perhaps with some unfair prejudice about the company being situated in Greece.(I live in Denmark). But I admit, that has been put to shame. I ordered my stuff last weekend, and four workdays later the package was at my doorstep.
Opening the package I expected to find a bunch of small plastic bags containing all the parts for the models, but was very pleasantly surprised to find two solid plastic assortment boxes in stead….beats Mantic games "video cassette " boxes by a mile in my book.
[URL=http://smg.photobucket.com/user/krede/media/DSC_00761.jpg.html]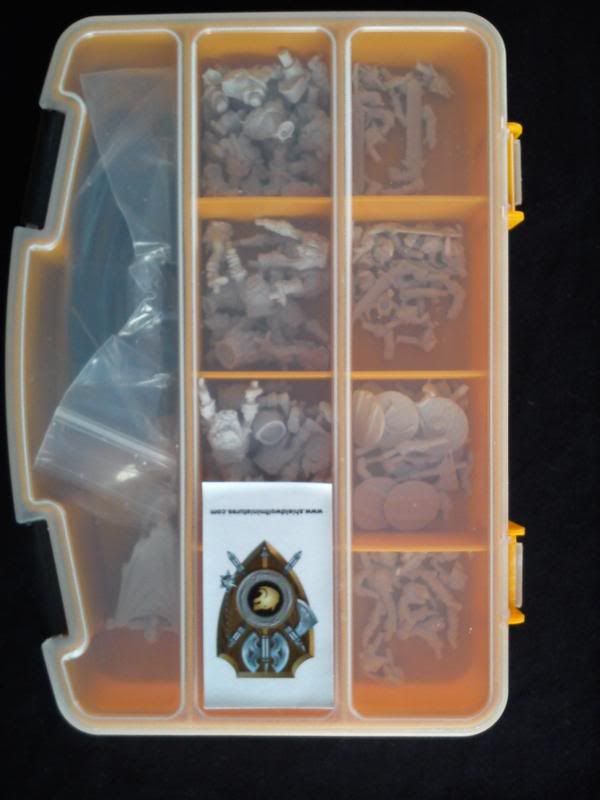 [/URL]
The miniatures themselves are made from light grey resin, that id say is better than the stuff Mantic use (the the undead cav), and at least as good as gw finecast and banelords (the only resin models I have ).It is not brittle, but no way near as soft as reaper bones miniatures.
The parts are clean with almost no mould lines and just a bit of flush on the banner (but next to this my GW finecast model looks cheap). I have found no air bubbles at all.
You get five different (pairs of) legs, five different torsos 6 head options an assortment of weapons two different shield types (6 shields in all) and a banner.
Legs and torsos are rather similar, so obtaining much variation in pose might need some work.
Detail is crisp if not abundant, but it is cool with me and I reckon they will be fun and straight forward to paint.
Size wise I would say they will fit in well with most 28mm fantasy ranges, though they do lean towards a more realistic anatomy.
All in all I am very pleasantly surprised about the experience of ordering from shieldwolf miniatures and am impressed with the quality of the product.