This is model NSF21 from Irregular's 6mm sci-fi line: link
There's no photo of it in the catalog, so I snapped this shot: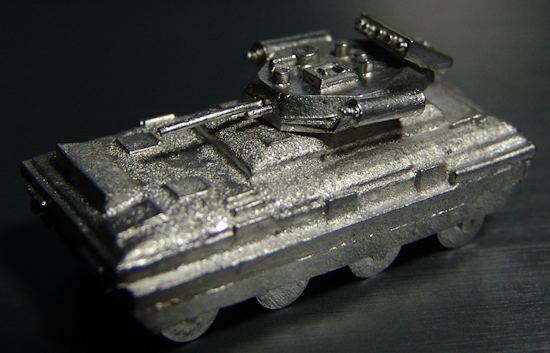 This seems to be a companion model to NSF23, the Attack Vehicle. Both are on "roller" wheels (extra-wide wheels) – this vehicle has four on a side.
This is a hefty vehicle – 33mm in length, 19mm in height. It somewhat resembles a Bradley IFV, but several times the size! There are four "headlights" on what I presume is the front, and a curious triangular structure on the top of the hull on the front (sort of looks like it could fold back into the hull). Some blocks on the side might be an anti-personnel belt.
The turret is loaded with weapons: a thin-barreled main gun, a short coaxial gun, what looks like a mini-turret for a machinegun, two side pods that could be missiles or maybe laser weapons, and a rack on the back for five rockets/missiles.
One approach…
Equipment Item                   VSP : BVP     Spaces   Cost


---


Vehicle, class 4                  20 :  0          20     20
Armor class 4                     20 : 36          20     36
Fusion Generation Plant           20 : 36          20     58
Hi-mobility wheeled               20 : 36          20     69
2 class 2 HEL's in 
  Full traverse turret            20 : 36          12    117
1 class 3 MDC in 
  Full traverse turret            20 : 36           3    147
   with Basic fire control        20 : 36           3    153
1 GMS/L with Basic guidance       20 : 36           1    173
1 APSW                            20 : 36           1    173
APFC belt                         20 : 36           0    193
Surprisingly, you can get almost the same results by dropping the MDC to class 2, and downgrading from fusion to chemical fueled…
Equipment Item                   VSP : BVP     Spaces   Cost


---


Vehicle, class 4                  20 :  0          20     20
Armor class 4                     20 : 36          20     36
Chemical Fuelled Engine           20 : 36          20     43
Hi-mobility wheeled               20 : 36          20     54
2 class 2 HEL's in 
  Full traverse turret            20 : 36          12    102
1 class 2 MDC in 
  Full traverse turret            20 : 36           6    122
   with Basic fire control        20 : 36           6    126
1 GMS/L with Basic guidance       20 : 36           4    146
1 APSW                            20 : 36           4    146
APFC belt                         20 : 36           3    166