This is a four-wheeled armor car with turreted main gun, in Brigade Models' South African range – link
The prolific javelin98 has some stats previously – link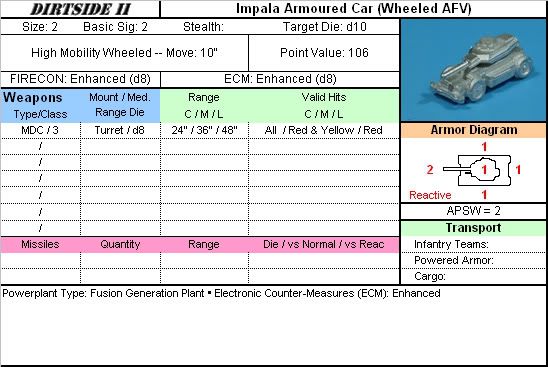 Of course, no two people see the same model the same way!
I'm going to go down a size and make this a Class 1, as it's smaller than a BMP-1/BIMP 2000 (which is sort of my benchmark for the smallest that works for Class 2).
I'm also going to downgrade this to Low Mobility Wheeled, as those little tires don't look like they'd be much good off-road.
And, since I can't seem to reach Andy Cowell's handy online Dirtside Vehicle Generation page today, I've done the stats in an Excel spreadsheet (credits: javelin98!).
I couldn't fit anything larger than a Class 1 autocannon (RFAC).
Although, if you upgrade to Fusion power, you can change the weapon to a mass-driver cannon (MDC), and the turret/gun do look rather long and narrow…
Note that a careful inspection of the model does reveal a coaxial MG on the turret, but on a Class 1 vehicle, it'll just have to be the "free" ASPW.