I live in Fairbanks, Alaska – right in the middle of the state. It's relatively remote – over 2000 miles north of Seattle, and 350+ miles north of the nearest city of any size (Anchorage).
I love it here, I don't ever plan to move away… but, that said, there are some things that I miss out on being in a medium-sized city in the middle of the wilderness – easy access to gaming and comic conventions is one of those things!
I was involved in organizing some small (but fun!) games days back when I was in college (The Arcticon from 2002-2004!), but there hasn't been much since then. The local comic shop has a fair number of events – organized Magic tournaments, Warhammer days, that sort of thing, but there's only so much that they can do in the store.
I was quite pleased last year when some students decided to put on a "Pop Culture" convention at the local University! They were focused on video games and Warhammer, mainly, but they had lots of geeky fun events – an anime room, Pokemon & Magic tournaments, the Zombie Research Society, the 401st, a costume contest, etcetera. It was small but very successful, I think – and lots of fun.
This year was the third Pop Con – appropriately titled Pop Con 3, and I again had a table at the event. It was a fun convention, I met lots of good people and bought some cool art.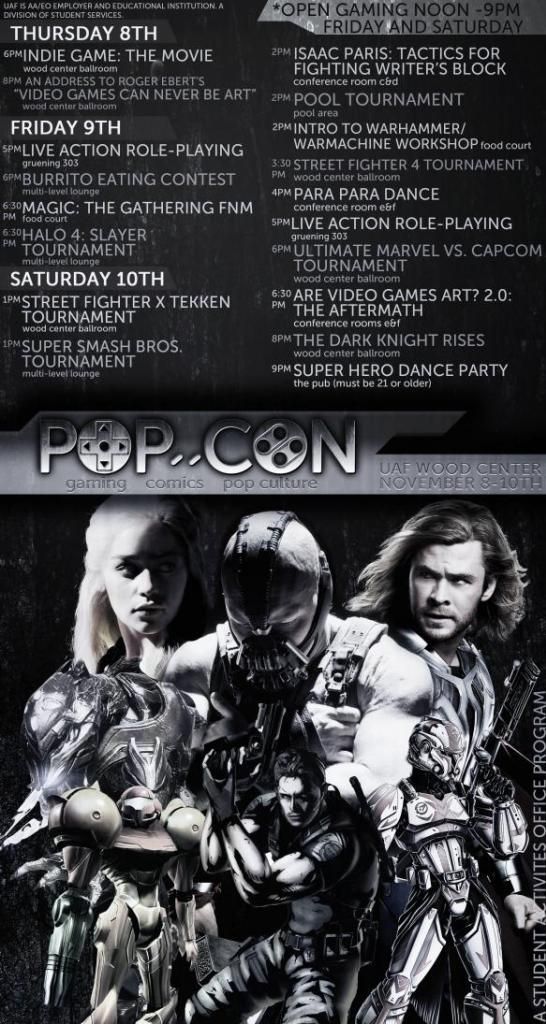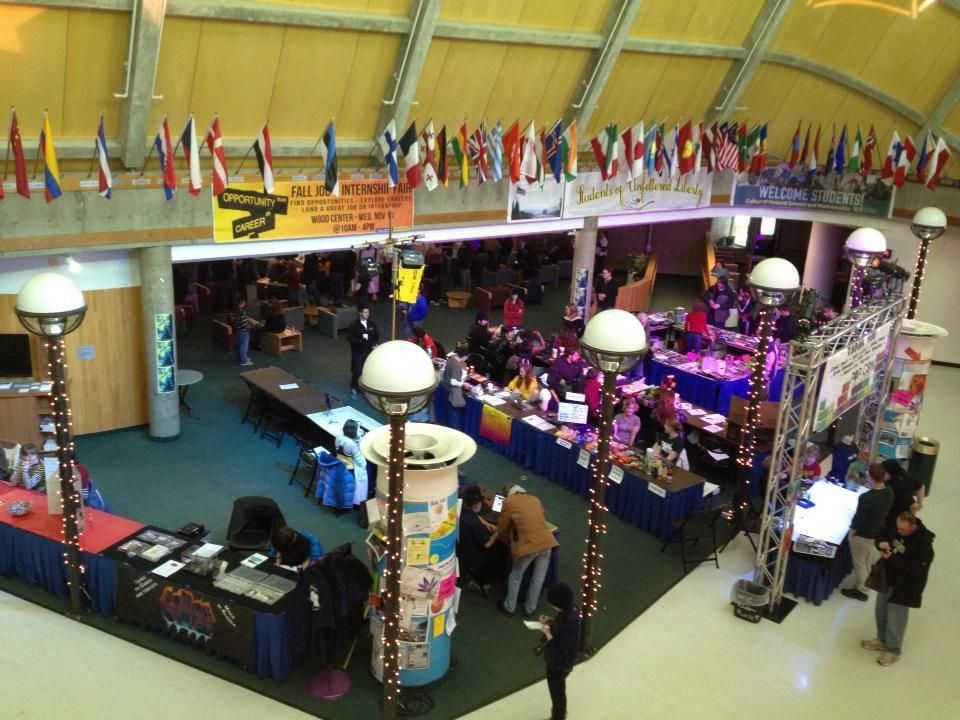 Overall, the crowds felt slower than last year. I don't know if attendance was actually down or if the events were more spread around the building or what, but the end result was that I had more one-on-one talks with convention goers than last time. Most people were great, interested and excited to be there. I sold more shirts than miniatures, as I expected, but I had some good miniatures sales, too. People really seemed to like the little turtles, and a teenaged girl in an anime costume surprised me by confidently walking up to the booth, buying a Mutant Terror Bird, then walking away, barely speaking a word.
The biggest and most awesome surprise miniatures-wise was when a guy approached my booth carrying a big box. He set the box down and unpacked a Wargods of Olympus Titan Master that he had converted to use as a Chaos Giant for use with his Warhammer army.
He was completely unaware that I'm a huge fan of Crocodile Games' Wargods figures! He had swapped the Titan's head with the head of a Warhammer Lizardmen Army's Stegadon and used my snapping turtle shields as armor plates on the beast – they looked great! I had never considered using them that way! It's always a treat to see the new and surprising uses that people come up with for my figures, and it was especially cool to see it on such an awesome figure.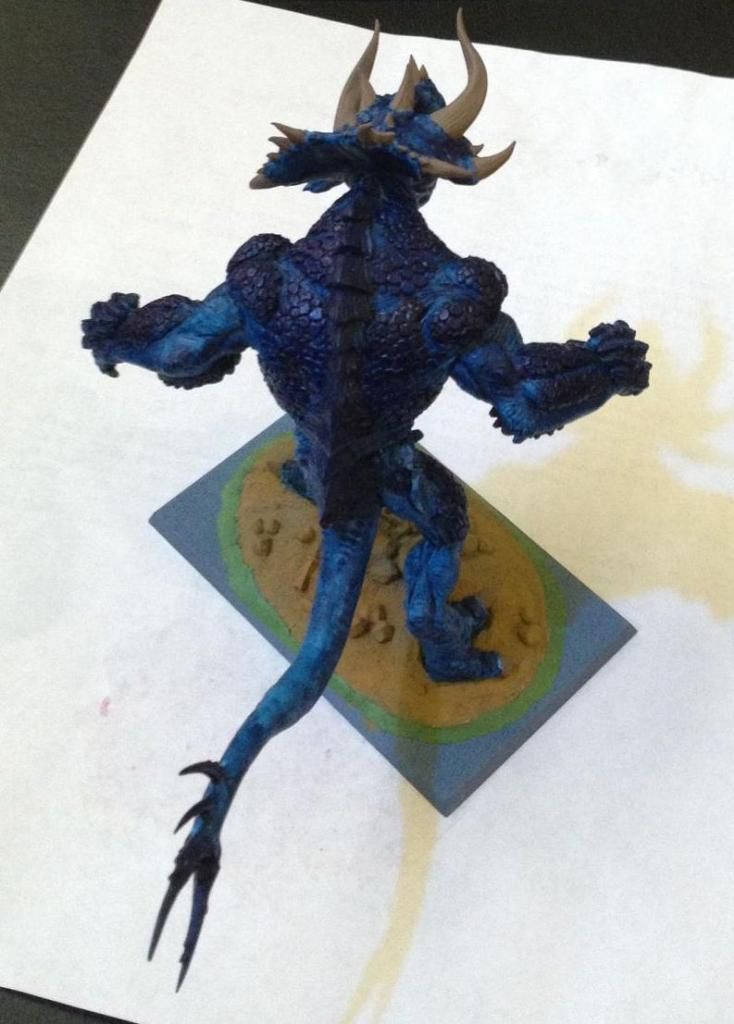 I also had a couple of interesting encounters.
One young guy (he looked to be about 18) aggressively interrogated me about the manufacturing process while at the same time insulting my wares.
"You know, you'd sell more miniatures if you made Warhammer stuff."
"You know, these look OK, but not as good as Warhammer miniatures."
"Spincasting machine? Vulcanized Rubber molds?" (he paused to sneer and draw a breath) "Uh… I don't think so. I've never heard of that."
I tried to be polite and answer all of his questions, but mostly I tolerated him because he was the only person at my table. After digging through my stuff for a few minutes, he picked up one of my snapping turtles.
"You know, this guy looks alright."
"And for the low low price of two dollars, it can be yours!"
"Hey", he said, greatly irritated, "Don't get your hopes up," as he STUCK HIS HAND IN MY FACE palm up in the 'talk-to-the-hand' gesture. "I'm not going to *buy* anything."
I blinked.
In my mind, I went straight into bouncer mode, slapped his hand aside and told him to get it out of my face before he pulled back a bloody stump.
What I actually did was pause, then say "Um… huh. Wow. Ok."
Then I sat down, leaned back in my chair, pulled out my phone and started to ignore the guy. He tried to say a few more things at me, but I kept playing with my phone and answered him with monosyllabic grunts. "Mm-hmm. Yep. Uh-huh…"
He eventually wandered off.
Later that afternoon an oddly-dressed bearded fellow in his mid-20's approached the table.
Now I realize that this was a comics and games convention on a college campus in Alaska. There were lots of costumes being worn (video game and Anime characters seemed to be the most popular choices), and between the hipsters and the whole "Alaska" thing, beards are the norm. I've got a beard! But this guy… he looked like an extra from a 1960's Hammer Horror film. Tweed coat, long wool scarf, baggy trousers, walking stick – all in shades of brown.
He noticed that I was looking. "Hey, guess who I am!"
"I dunno man, you got me there."
"I'm the Professor!" he said with great enthusiasm.
I waited for him to further explain, but he just stood there quietly with an expectant look on his face.
"…
The Professor? Like… Gilligan and Mary-Anne?"
"No no no – like the Doctor or the Master! From Dr. Who!"
"Cool, I love Dr. Who! But I'm not familiar with 'The Professor'. Which era of the show is he from?"
"Oh, you wouldn't know the Professor. He's from some fan fiction that I wrote."
"Uh… well then why did you ask me to guess?"
"I ask everyone to guess! Then when they get it wrong I can correct them and tell them all about my character!" And what could I say to that? The guy was obviously some kind of
genius. Before he could go into more detail, a couple of college kids walked by. He noticed them looking. "Hey!" He called out, as he hurried to follow them. "Guess who I am!"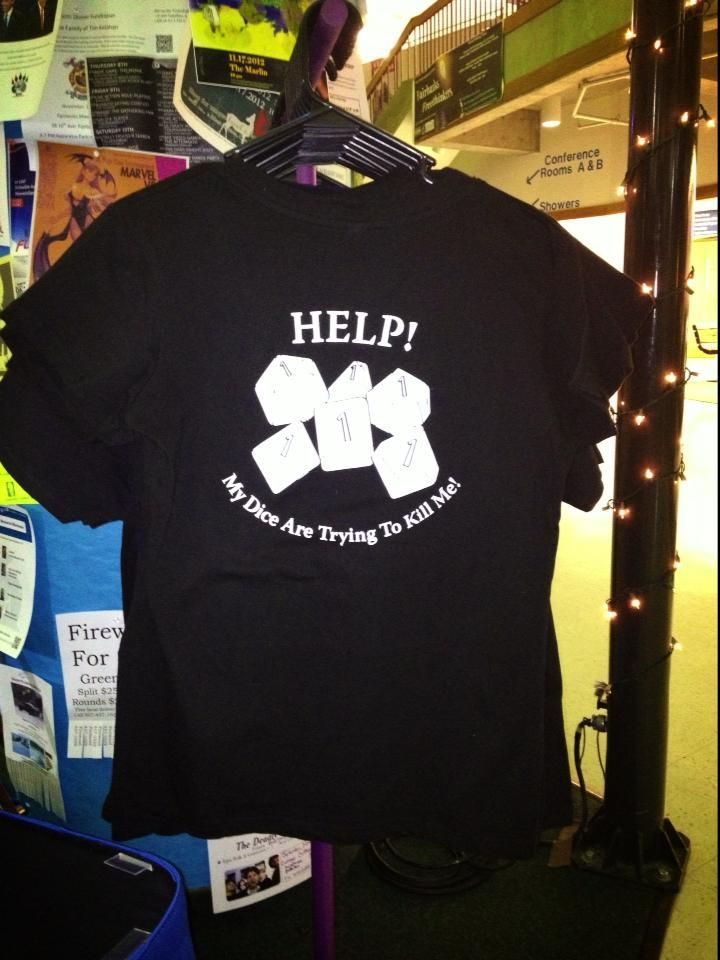 Much like the previous Pop Con, my t-shirts far outsold my miniatures. I've got mixed feelings about it – on the one hand, it's great to sell anything, gratifying to have people like my design, and it's really awesome to occasionally bump into people around town who are wearing my shirts! On the other hand… dammit, I got into this to sell miniatures, not shirts!
Anyways, my shirts got a lot of attention.
A friend of mine makes beautiful summer dresses and shirts and sells them at the Farmers Market and other fairs – she loaned me one of her nice wooden clothing racks so I could display my shirts better.
One gentleman was really excited to see the shirts, laughing at the image on the shirt and flipping through the whole rack, but giving no indication that he was going to buy anything. His friend walked up to talk with him – he turned, leaned, and put his entire body weight on the wooden stand.
The crossbar snapped clean off; he fell over backwards.
I couldn't believe it. "Dude!!!"
He stood up, laughing. "Huh huh huh…" (he laughed just like Butthead from Beavis and Butthead), "Oh man, I'm always breaking stuff…"
Again, in my mind I went directly into bouncer mode. "WELL, MAYBE YOU SHOULD STOP BREAKING STUFF, THEN!!!!"
But I restrained myself. All I said was, "DUDE! … Dude… … dude… … …"
To his credit, the buddy said (as he was helping Butthead up off the ground), "You know this means you have to buy a shirt, right?"
"I what? Oh, OK, I guess so."
He bought a shirt, and the event staff were able to find some wood screws that I used to effect a temporary repair to the shirt stand.
Thankfully it happened towards the end of the last day, I didn't have to worry much about it falling apart.
That about covers the weekend – it was a lot of fun. I'm happy to consider it a dry run for the Emerald City Comic-con in March. It really drove home for me how important it is to have nicely painted examples to show off. The figures that I had painted samples to show off sold twice as well as the ones that I only had unpainted.
As always, I owe a lot to my friends who helped me out – I couldn't have done it without you guys!
I'll have a booth at the Emerald City Comic-Con in March (1st, 2nd, and 3rd!), so if you're in the Seattle area that weekend, look me up!
-Alex Bates
-Forge of Ice