The Walther-Hino Advanced Technologies All Terrain wheeled Autonomous Transport (of course ;) ) was specificially dveloped by W-HAT for use in 'frontier environments' where road and transport infrastructure was lacking. They are widely used on Harmony.
The ATwAT series of vehicles are robotically controlled units with an all terrain capacity with limited amphibious capacity. The unit is sealed against toxic and corrosive gases, is heat resistent and vacumn rated.
Available in various configurations and fit outs, the hydrogen fuel cell powered vehicles have proven to be very popular, particularly amongst miners, construction and heavy industrial users. The flatbed unit, carrying a modular pallet or container is one of the most widespread variants but many other versions are available.
The ATwAT can carry a human (or similarly sized sentient) driver in the single driving position but are routinely used as autonomous (robotic) units, coupled by wireless links to form larger units as necessary.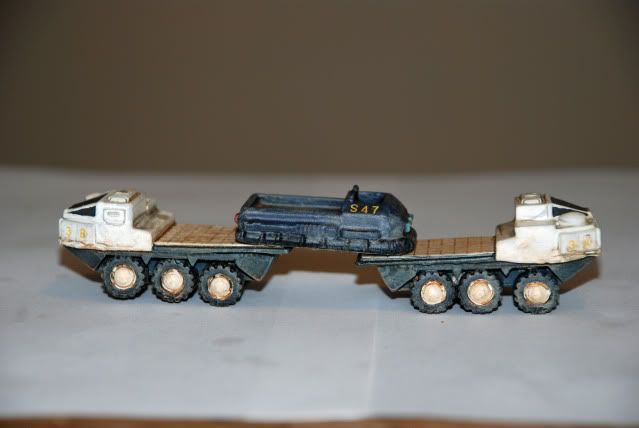 MU operations allow the carriage of very substantial items of equipment as coupling additional ATwATs is to all practical purposes instantaneous.
Your local dealer will have new and used stock available now!
Combat Wombat Atlas trucks, built for a Wargmes Guild speedbuild & slightly tongue in cheek. Loads from CW, GZG & Johnny Lightning.