This piece is the First release in the Nemesis Range of Sci-Fi themed miniatures and is limited to 250 casts once there gone there will be no more… Strike fear into the heart of your enemy and be the envy of your friends with this super hot release from this Brand new range.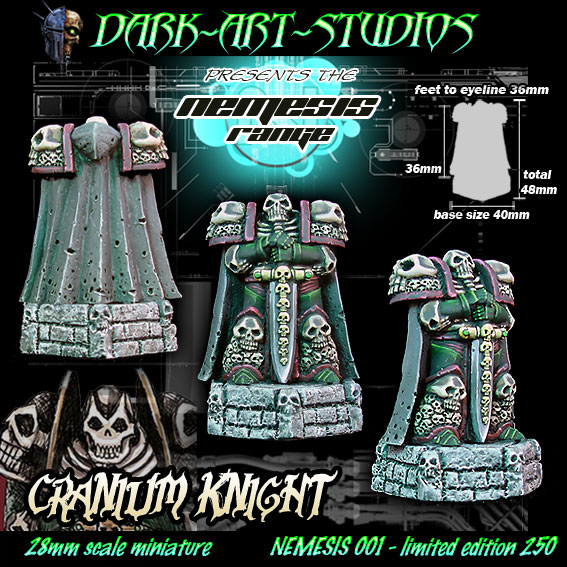 This miniature is a remake of a miniature I made a few years ago called Cranium Warrior.. with this new sculpt I re-designed him for a more futuristic appearance. I took influences from early gameworkshop miniatures going for more of a retro look for this first release -Byron

Miniature specs:

Parts include:
• 1 Cranium Knight miniature
• 1 Sculpted base

Mini height: feet to eyeline 35mm. Total height including base 48mm
Base size: 40mm
Material: High quality Resin [Ivory].
Designer: Byron Townshend.
Price: £10.00 GBP

Modeller notes: Basic sculpting techniques required to build the model include filing, gluing and filling in joints and any air bubbles acquired during the casting process.

------------------------------------------------------------

you can purchase items direct from Dark Art Studios by e-mailing: info@dark-art-studios.co.uk with your order, an invoice will then be sent via paypal.

alternatively you can buy our items via ebay..

link: auction

link:
facebook.com/studiodarkart
keep up-to-date on current news, pictures & future competitions via our facebook page only take 2 secs to give it a like :)

Forthcoming…. Renegade warrior